KHS Receives Million-Dollar Gift for New Vet Center
November 18, 2021
Kitsap Humane Society has received a million-dollar gift towards the second phase of the shelter's lifesaving capital campaign project from two generous supporters and Bainbridge Island residents, Russ and Linda Young.
With their gift, the future vet clinic will be named the Russ & Linda Young Veterinary Lifesaving Center, with plans to break ground in 2022 and fully open for shelter and owned-pet care in 2023.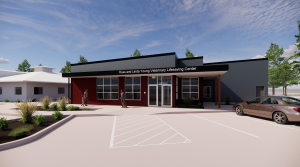 The Youngs' gift, along with other donations, brings total campaign funds raised to over $5.2M in less than one year since the second phase of the shelter's capital campaign project was launched. The total project is estimated to cost between $8.5M and $9.0M.
"We moved to Kitsap County 24 years ago, and ever since, we've been passionate about helping the pets of Kitsap Humane Society in some form or another. It all started with donating blankets (handsewn by Linda) and a conversation with the Director of Shelter Medicine, Dr. Jen Stonequist, about what we could do to lend a hand," Russ and Linda Young shared.
"Dogs are at the center of our 41-year marriage. And it has set the stage for every dog we've rescued and, ultimately, this gift we want to give in support of KHS and this critical project. Our passion has always been pets and lifting up our community."
"As people, we have a moral obligation to take care of animals. It's the only humane thing to do. Given all that animals do for us, we owe it to them to provide them with proper and affordable veterinary care," the Youngs said.
Kitsap Humane Society's campus, which has already seen the construction of a new Pet Adoption Center and a renovated Canine Behavior & Training Center thanks to the community's overwhelming support, is preparing to break ground on a state-of-the-art veterinary clinic.
The future veterinary center will triple the size and space of the shelter's current medical facilities, provide reduced-fee veterinary services to low-income families through a new community clinic, include expanded and enhanced treatment and surgery areas for critical care patients, and an overall quieter and less stressful area for pets to recover, as well as on-demand access to critical medical equipment.
"More than ever, it is time to provide our community's pets in need with a veterinary facility that matches the excellence of our work and sustains our high lifesaving rate. The last year and a half have truly showcased the critical bond between pets and their people," shared Executive Director Lee Harper.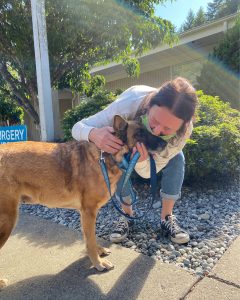 Pets like Lola, who was brought to Kitsap Humane Society in late summer when her owner feared that she'd have to surrender Lola because of being unable to afford the veterinary care that Lola urgently needed.
Thanks to the passage of SB 5004, humane societies, which previously could not care for owned pets beyond vaccinations or microchips, is now able to provide more comprehensive care to pets and, in the case of Lola, keep the dog with her loving family after treating her and removing her infected uterus.
Lee continued, "The reality is that income level doesn't define a person's ability to love their pets. And as we continue to work through the hardships brought on by the pandemic and beyond, Kitsap Humane Society is committed to keeping pets in their loving homes whenever possible."
Photo Captions
Photo 1: The Russ & Linda Young Veterinary Lifesaving Center rendering, due to break ground in 2022 and open in 2023.
Photo 2: Lola and her owner are reunited after Lola's lifesaving surgery at Kitsap Humane Society.
Media Contacts:
Victoria Gingrey
Director of Marketing
Kitsap Humane Society
(360) 692-6977 x 1206
vgingrey@kitsap-humane.org