Serving as more than a shelter since 1908…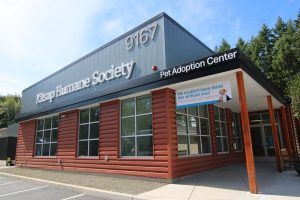 Founded in 1908 and located in Silverdale, Washington, Kitsap Humane Society (KHS) serves Kitsap County and beyond as more than a shelter.
We work to rescue, rehabilitate, and find loving homes for thousands of animals every year. To do this, we are committed to an open admissions policy – meaning we don't turn animals in need away, and excellence in all of our services.
Over the last decade, KHS has become a one of the leading animal welfare organizations in the Pacific Northwest, serving as a nationally recognized model for fellow institutions.
Today, thanks to generous community support, a broad volunteer and foster base, and a strong team of staff, KHS continues to transform animal welfare in Kitsap County and beyond by saving thousands of animals, including dogs and cats, small animals, and occasional livestock through compassionate, individualized, lifesaving care.
Committed to serving pets and the people who love them, KHS offers dedicated programs and services such as reuniting lost pets and their families, adoptions, Animal Control, behavioral and owned pet support, our Pet Food Pantry and Pet Protection Program, a robust transfer program, community spay/neuter surgeries, and vaccine/microchip clinics, as well as pet licensing and end-of-life services. And, thanks to the soon-to-open Russ and Linda Young Veterinary Lifesaving Center, we'll be providing low-cost veterinary services to those who qualify, serving as a safety net for our community and keeping companion animals with their families in times of need.
Kitsap Humane Society is a 501(c)(3) organization.
Tax ID Number: 91-0728353
A brief history:
1908: A group of compassionate visionaries founded a local Society for the Prevention of Cruelty to Animals. Over the following decades, this effort stalled.
1939: During World War II, the population of Kitsap County,  particularly in Bremerton, increased dramatically due to the war industries located there. This led to an increase in the pet population as well. Unfortunately, pets were often abandoned when their owners relocated. While some volunteer rescue efforts were made, too many pets were euthanized by local officials.
1950:  The problem with stray and abandoned animals in our community became critical.
1961: After several years of efforts led by our founder, Almeda Harris Wilson (pictured above), Kitsap Humane Society was reactivated.
1971: After construction in the late 1960s, the Charleston Beach shelter was enlarged. By the mid-eighties, the needs of the animals and our community surpassed the capabilities of the Charleston Beach shelter.
1988: Construction started at the current shelter location on Dickey Road in Silverdale, with the move being completed in June 1989.
2000: Kitsap Animal Control was redeveloped as part of an overall strategy to update and enhance Kitsap Humane Society's programs and services.
2007: We celebrated 100 years of service to the animals and community members of Kitsap County.
2008: An administrative building was added to our campus as the first big step to providing desperately needed space for our growing team and programs and services.
2014: Kitsap Humane Society launched its Rescue Me transfer program, which transports at-risk animals to Kitsap County from high-volume shelters around the country, saving 1,221 animals in need in its first year.
2019: The longstanding need to improve sheltering for animals was achieved with a new, 9,500 square-foot Pet Adoption Center opening in October.
2020: Kitsap Humane Society achieved a 96% lifesaving rate (or better) for the sixth year in a row! Additionally, KHS renovated part of our old shelter building to include the Heidi Harnett-Wakefield Memorial Behavior & Training Center, honoring a long-standing volunteer leader at KHS, and dedicated to providing enhanced care and services to dogs in our shelter.
2021: Work began on the next phase of our plans to enhance our animal welfare campus with the addition of a much-needed Veterinary Lifesaving Center, after the passage of SB 5004 allowing humane societies to care for owned pets, which will provide even greater capacity to care to both shelter and low-income pets in our community.