Kitsap Humane Society's Rescue Me program saves the lives of pets from other shelters and rescues, bringing them into our foster and adoption programs and finding them great homes. In 2018 alone, our Rescue Me program transferred in almost 2,300 animals. Many of the animals saved through the Rescue Me program come to KHS from our partners in Washington State, but we also help at-risk animals from partners regionally, nationally, and even internationally! We partner with shelters and rescues in Texas, California, the Hawaiian Islands, and more! Our Rescue Me vehicle is on the road saving animals multiple times a week all over the state at all hours of day and night- if you see us, say hi!
How can you help support the Rescue Me program?
Rescue Me Spotlight!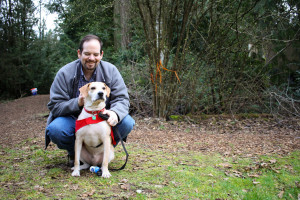 Jack
Jack came to KHS from Hawaii through the Rescue Me program.He was adopted to be a service pet and is in training to get his service dog certification. Jack is pictured here with his owner, Pat, a veteran.