Eric Stevens
Executive Director
Eric Stevens arrived at Kitsap Humane Society early in 2012 to lead the organization through a challenging economic time. Today, after partnering with a dedicated Board of Directors, Eric reports that KHS is financially stable and poised to embark on expanded goals and programs.
For more than 30 years, Eric Stevens has worked as a leader in the nonprofit sector. He has had his own independent consulting practice since 2005, specializing in strategic and business planning, board development and executive coaching with nonprofit leaders and boards. 
Prior to consulting, Eric spent more than 25 years leading (and growing) nonprofit organizations in Minnesota as an Executive Director/CEO. For 20 years, he led St. David's Child Development and Family Services, significantly expanding the organization's services, staff and budget and successfully completing two capital campaigns.  For six years, he served as CEO of Courage Center, a rehabilitation and social service facility for people with physical disabilities.
More recently, Eric served as Development Director of the Bloedel Reserve on Bainbridge Island, where he helped to significantly expand fundraising revenues. He also has served on nearly a dozen boards of directors, often taking on leadership roles (e.g. board chair and/or committee chairs).
Eric grew up in New York City, where he attended Queens College majoring in economics. He then attended the MBA program at Stanford Graduate School of Business, and later earned Master's Degrees in Early Child Education at Central Washington State University; and Organization Leadership at the Leadership Institute of Seattle.
Eric lives on Bainbridge Island with his wife, Caroline.
Sarah Moody-Cook
Director of Animal Welfare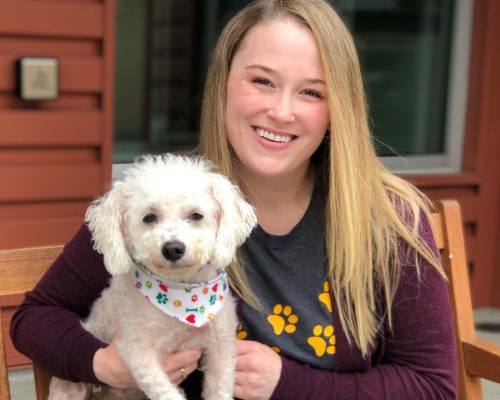 Sarah Moody-Cook joined KHS in 2002 as a volunteer dog-walker. In 2004 she was hired and since then has filled various roles in the areas of Animal Care, Adoption Outreach, Veterinary Services, and Volunteers. She most recently held the position of Assistant Director of Animal Welfare.
Sarah received a bachelor's degree in Arts, Media and Culture from the University of Washington in 2013. She lives in Silverdale with her husband, two cats (KHS alumni) and 13 chickens (most are KHS alumni as well!).
Jennifer Stonequist, DVM
Director of Shelter Medicine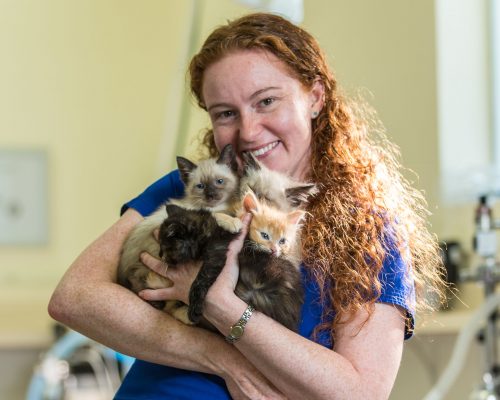 Jennifer Stonequist, DVM, received her doctorate in veterinary medicine from Western University Health Sciences in Pomona, California. She always had a passion for animal welfare and realized through veterinary medicine she would contribute to the movement in a very meaningful way.
"Dr. Jen," as she's affectionately known at KHS, completed several externships with hospitals and organizations across the country during her studies, including in surgery, internal medicine, emergency medicine, feline medicine and a shelter medicine externship with Best Friends Animal Society.
One of Jennifer's passions is high-quality, high-volume spay/neuter surgery. She has volunteered with organizations including FixNation in LA, the Humane Society of Tijuana and the Feral Cat Spay/Neuter Project here in Washington . Bringing those experiences to KHS, Jennifer has worked with staff and volunteers to develop and expand the Kitsap community's own low-cost Spay/Neuter Program. 
Jennifer lives with her fiancé, Alec, and their "fur babies," including their two dogs, Rosco and Baragon, in Bremerton.
Melissa Fenwick
Finance Director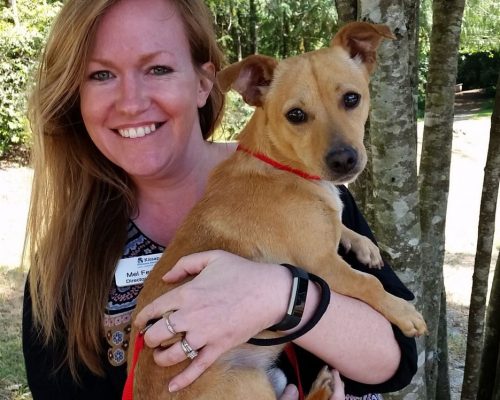 Melissa joined the KHS team in March 2018. She has over 20 years of experience in the fields of accounting and human resources. She received her Bachelor's Degree in Accounting from Sonoma State University.
After college she moved to Silicon Valley, right before the big dot-com implosion, and spent several years helping small R&D companies shut down their businesses. Following that, she moved to Hawaii, got married and had her first child. After five years of Hawaiian Island living and working as an accounting and HR manager, her family returned to the mainland – Washington state.
Prior to assuming her role at KHS, Melissa worked for a non-profit nursing home on Vashon Island as the accounting and HR manager.
Melissa lives with her husband, two children and their beloved family dog.
Victoria Gingrey
Director of Marketing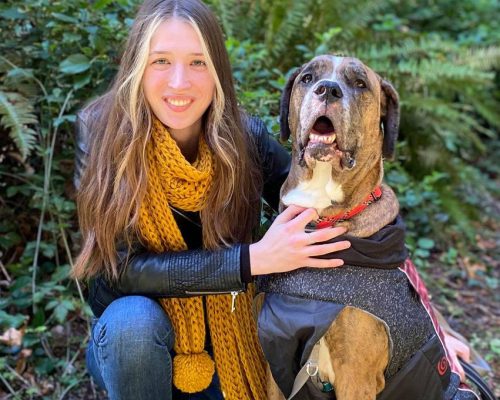 Victoria Gingrey graduated from Indiana University-Purdue University Indianapolis (IUPUI) with a degree in Journalism and Public Relations and a French minor. She moved to Washington after working at the Indiana University Lilly Family School of Philanthropy and the Indiana Department of Revenue in public relations and marketing positions. A few months after moving, Victoria became a volunteer dog walker at KHS and joined the marketing department at Kitsap Credit Union in Bremerton. Most recently, she served as the Communications Manager at the Humane Society for Tacoma & Pierce County, spearheading marketing and public relations efforts.
Victoria lives in Manchester with her husband, two dogs, Seamus and Harley, and cat, Chewbacca.