Beginning Wednesday, June 2, Kitsap Humane Society has transitioned to a walk-up and queue-based first-come, first-served adoption system. We will no longer be operating on an appointment-only system! 
Entry to the shelter will remain limited, and walk-ins are not permitted for general pet viewing.
To ensure the continued safety and well-being of staff members, volunteers, and the community, masks and social distancing are required on KHS property.
For information on our queue-based first-come, first-served adoption system, click on the "How to Adopt" icon. Please note, if you are interested in meeting with a pet in foster care, you must email your adoption application to adoptions@kitsap-humane.org so that we may schedule a time for you to meet with the pet.
If you are experiencing symptoms that could be related to COVID-19, we ask that you cancel your appointment and don't come to the shelter while you are ill. For a list of symptoms, please visit the CDC's website.
---
Kitsap Humane Society has a wide selection of dogs and cats of all sizes, ages, breeds, and personalities available for adoption! Small animals, birds, and livestock are also occasionally at the shelter and in need of homes.
Each adoption for dogs and cats includes:
Spay or neuter surgery

Microchip with registration through Home Again

Initial vaccinations

Intestinal de-worming

Initial flea treatment

Free post-adoption exam at local participating veterinarians

Reference material on pet care and training

Post-adoption behavior support, as needed
In addition to the animals that are available at the shelter, adoptable pets can also be found around the region at weekly adoption events.  Adoptable cats and kittens are also available at our off-site adoption locations. We make adopting easy and fun, so come find us in your community!
Additional services and retail items for sale to adopters, including:
Pet licenses

for all Kitsap County municipalities

FIV/FeLV testing for cats

Engraved ID tags

Collars and leashes

Cat carriers

Single dose and full boxes of Advantage flea treatment

Pet beds, toys, clothing and other miscellaneous items
Success Stories
Each year, Kitsap Humane Society finds homes for thousands of shelter animals. Thank you to our adopters who make this incredible live-saving program possible! Kitsap Humane Society loves hearing from our adopters! Updates from adopters are regularly featured on the KHS Facebook Page. Submit your story below.
Featured Success Story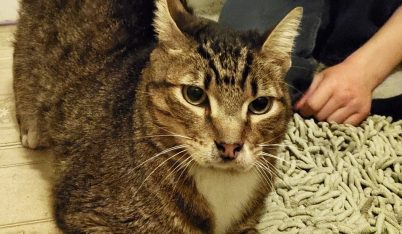 One Unique Cat Finds His Unique Forever Family
After almost two months at Kitsap Humane Society, our unique pal Thomas has found the loving family he always wanted.  Every kitty is a little different… Thomas is an adorable senior cat who came to Kitsap Humane Society as a stray. When Thomas came to us, his upper lip was red and sore. Our vets… Read Entire Story »