A Life Transformed: Meet Dean
August 4, 2021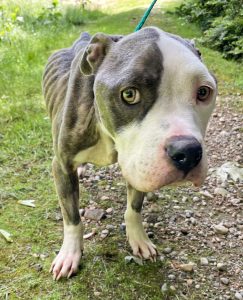 Two months ago, a community member and her child were walking along a local beach. They spotted something in the distance but had to move closer to see if their eyes were deceiving them. There, lying in the cold rain amongst the sand and rock, was a dog. His body was emaciated, and his limbs were limp. The community member thought the dog had passed, but he weakly lifted his head, asking for help. And help came. Thanks to her fast thinking, the community member rushed him to her car and brought him straight to Kitsap Humane Society.
When Dean came to us, we didn't know if he would make it. Weighing barely 30 pounds, hardly moving, and cold to the touch, his prognosis didn't look good, but we knew we had to try. With immediate and careful action by our vet service team, Dean was put on a steady regimen to gain strength and weight. In just a few days, his spirits improved, and he was learning to walk again!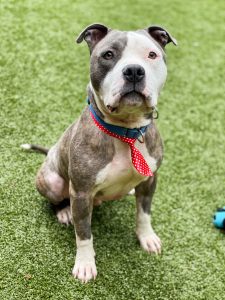 Just over a month after Dean was found, he was a whole new pup. The three-year-old, blue and white pittie reached his goal weight of 48 pounds and was ready to be adopted! While in our care, we learned that Dean is a huge fan of stuffed toys (especially the ones with squeakers), relaxing in the sunshine, showing off his new bod, and cuddling.
While we don't know how Dean ended up in the condition he was in; we are so inspired by the resilience and love that Dean has shown. And we are so thankful for the vigilant and compassionate community member that rescued Dean, our vet team that cared for him, and each person that has been a part of Dean's journey to health at KHS. Dean is why we do what we do! And we're happy to say that Dean has since found his forever family!
Want to help us care for pets like Dean? Visit our Donations Page!