Meet Puppuccino Pal Sponsor, His Ohana Shave Ice
August 2, 2021
What better way to enjoy the warm, sunny days of August than with a cup of shave ice? This month, our Puppuccino Pal is a little different, and the pups are here for it! That's right, our August Puppuccino Sponsor is His Ohana Shave Ice and instead of slurping up the classic whipped cream puppuccino, our pups will be chowing down on Puppy Ice (peanut butter shave ice with a creamy topping) created by this lovely local and family-owned business.
Shave ice originated in Japan and was created only for royalty and the elite. In the 1940s, shave ice came to Hawaii and the first store opened in 1967. Now, shave ice has become a Hawaiian tradition.
Meet our August sponsor, His Ohana Shave Ice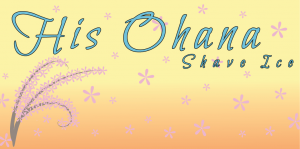 His Ohana Shave Ice is the destination in Kitsap for traditional Hawaiian shave ice. Straight from Hawaii, their shave ice machine creates delicious, fluffy, snowy treats. His Ohana Shave ice is dedicated to using 100% biodegradable or reusable products and has natural fruit syrups that come from Hawaii, all with real sugar. 
"Everything about what we do and how we do it is with love in mind," said Nicole Whitener, His Ohana Shave Ice owner. "Every syrup that is made, every product that is purchased, and every decision is made with the future of our community in mind. That's why we buy high-end syrups, make our treats with real sugar, and use biodegradable products. We also give back to our community by supporting our youth groups. 
"We are an animal-loving family. We have four rescue dogs Sarge (English bulldog), Tony (French bulldog), Buddy (Chocolate lab), and Max (German Shepherd). We love what KHS does for our community and love that they are a like-minded organization that cares for our furry friends."  
Check out His Ohana Shave Ice located at 50 NW Glade Ct, Bremerton, WA 98311. His Ohana Shave Ice is available for private events like birthdays and weddings.
Are you interested in becoming a Puppuccino Pal Sponsor? Visit https://www.kitsap-humane.org/support-us/puppuccino-pals/ to learn more!