Kitsap Humane Society is 

building a new animal shelter!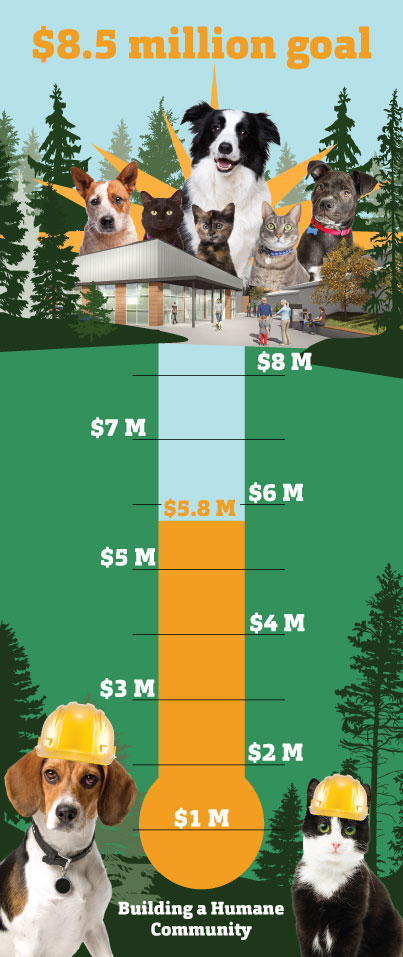 Thanks to major funders, construction is underway
Have you heard the news? Kitsap Humane Society's Friends of the Animals Campaign  is well underway, thanks to major donors, foundations, civic groups, and Kitsap Humane Society volunteers.
To date, we have raised $5.8 million of our $8.5 million fundraising goal! 
A new and enlarged building is needed to support our expanded lifesaving mission.  We are working in an outdated, overcrowded, inefficient facility. Our work is excellent … but our facility is not. Many improvements are needed, most of all, better housing for the animals.  The animals deserve better. Our Kitsap community deserves better, too – better conditions for adopters, staff, volunteers and all who love animals.
The animals deserve better
Our current shelter facility, built in 1989, is outdated, inefficient, and overcrowded. When it was built, national standards of care and lifesaving best practices had not evolved to where they are today, and high euthanasia rates were commonplace in many shelters. The constraints of KHS' facility have become even more pronounced over the past five years as KHS launched and expanded its animal transfer program, increased the number of animals re-homed annually, and improved its save rate to 97 percent! Problems faced in the new facility include:
Cramped animal housing
Inadequate medical/surgical preparation and recovery areas
Poor and ineffective ventilation system
Overcrowded lobbies
Inefficient work spaces
Looks and feels like an "old dog pound"
What the new building project will achieve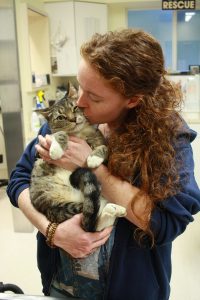 Our Friends of the Animals Campaign building project will double the size of our shelter, via two phases of construction. Phase I, now underway, will add a new 9,000+ square foot "Pet Adoption Center," adjacent to the existing shelter. Once the Pet Adoption Center is complete and open to the public, Phase II will entail a complete, phased renovation of our existing 9,000+ square foot building. The project will result in a facility that meets best practice standards of excellence and allows KHS to adapt to changing needs. Our lifesaving practices and service to the public will be advanced via
Improved animal housing to enhance the health, comfort and care of the animals. Less stressful housing conditions will promote better health, resulting in faster adoptions (shorter lengths of stay) and more animals saved.
Improved medical and surgical facilities to care for sick and injured shelter animals, as well as serving pets living in low-income households, via: programs like our  Low-Cost Spay/Neuter Program.
Improved ventilation systems to help reduce the spread of contagious diseases.
Improved behavior modification and training facilities.
Increased space to support our growing Foster Care Program.
Enlarged and enhanced lobbies to better serve the public.
A range of other facility improvements to enhance operating efficiencies and improve the environment and conditions for animals and people.
Join us in building a humane community.

Would you like to learn more? Schedule a personal tour to see the existing shelter and our new building plans. You can call or email one of our campaign staff members:
Eric Stevens, Executive Director, executivedirector@kitsap-humane.org / (360) 692-6977 x1115
Tom Weed, Director of Donor Relations, tweed@kitsap-humane.org / (360) 692-6977 X 1224
Kim Cizek-Allen, Director of Development & Community Engagement, kcizekallen@kitsap-humane.org / (360) 692-6977 X 1215
Rosemary Shaw, Capital Campaign Coordinator, rshaw@kitsap-humane.org / (408)-391-3208 (mobile)
Read more here: