Veterinary Lifesaving Center
Building a stronger safety net for pets and people
Construction Has Started On Veterinary Lifesaving Center People and Pets Deserve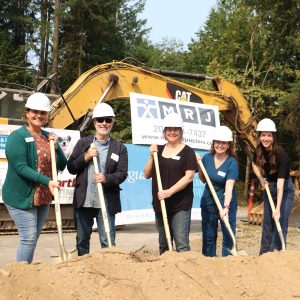 Over the last decade, Kitsap Humane Society has transformed our campus and animal welfare in Kitsap County. But our veterinary facilities are outdated, overcrowded, and inadequate.  Every pet that comes to KHS requires individualized care and attention, but over the last five years, the percentage of pets admitted to the shelter requiring critical medical treatment has grown from 33% to 50%.
In addition, KHS recognizes that too often, pet owners who are low-income in our community cannot afford the urgent veterinary care they need and want for their pets. Lacking resources or assistance, families often face the painful choice of having their pet go untreated… or having to surrender their pet to KHS.
But we know there's a better way.
More than ever, it's time to provide our community's pets in need with a veterinary facility that matches the excellence of our work and sustains our high lifesaving rate.
And it is time for Kitsap Humane Society to take the next step in developing a stronger safety net in our community to keep people and pets together whenever possible.
The construction of the Russ & Linda Young Veterinary Lifesaving Center, including the development of a community clinic is the next crucial step KHS can take to provide a full spectrum of innovative animal welfare programs and facilities.
Improvements and features of the new Russ & Linda Young Veterinary Lifesaving Center will include:
Triple the size and space of our current medical facilities
Reduced-fee veterinary services to families who are low-income through a new community clinic
Expanded and enhanced treatment and surgery areas for critical care patients
Separate, quieter, and less stressful recovery rooms for shelter pets to heal after surgery
On-demand access to x-rays, ultrasounds, and other diagnostic equipment as well as a specialized dental suite to provide even greater individualized care
Please help us build on our demonstrated momentum and bring our comprehensive vision to life.
Would you like to learn more? Please see our Campaign Brochure here. Schedule a personal tour to see the existing shelter and our new building plans. You can call or email one of our campaign staff members:
Jamie Nocula, Director of Philanthropy, jnocula@kitsap-humane.org / (360) 692-6977, ext. 1224
Eric Stevens, Capital Campaign/Project Director, estevens@kitsap-humane.org / (360) 692-6977, ext. 1115
Watch a Timelapse of Construction So Far:
Our Vision for Kitsap Humane Society's Pet Lifesaving Campus
With the completion of the Pet Lifesaving Campus (click to view campus design), Kitsap Humane Society will fulfill our vision of excellence in animal welfare. We've made great progress, but we need your help.
ALREADY COMPLETED:
Our Pet Adoption Center (pictured on the right) opened in October 2019.
Our Heidi Harnett-Wakefield Memorial Canine Behavior & Training Center, named after a beloved volunteer leader at KHS who passed away in 2017, opened in May 2020.
IN THE WORKS:
We broke ground on the Russ & Linda Young Veterinary Lifesaving Center in August 2022, and it is scheduled to open in 2023.
TO COME:
An expanded and improved Large Animal Center for temporary sheltering of farm animals in need.
An Education & Training Center, which enables KHS to offer humane education programs and dog training classes to the public.
Kitsap Humane Society is a 501(c)(3) organization.
Tax ID Number: 91-0728353