Pet Lifesaving Capital Campaign
Our New Pet Adoption Center is Opening This Fall!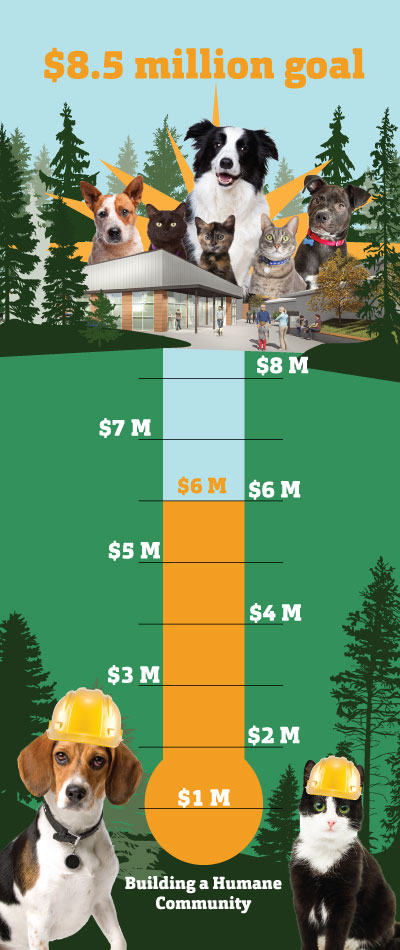 Move-In Campaign Now Underway!
After years of dreaming, planning and "making do" in shelter facilities that are cramped, noisy and limiting for pets and people alike, our Phase I Pet Adoption Center is nearly complete!
Right now, we have just $76,000 left to raise to complete Phase I of our building project, move the animals in, and open the doors this fall. Then it's on to Phase 2 — our new Pet Lifesaving and Medical Center!
To reach our goal, we've embarked on a Move-In Campaign and have reached out to close friends for support. Thanks to matching gifts from two generous donors — including a $100,000 gift from a board member — we have Move-In Matching Funds that will DOUBLE EVERY GIFT and help us raise the last $76,000!
These funds will be used to complete the:
first ever outdoor behavior training yard for canine enrichment
spacious, quiet and comfortable new dog kennels and cat condos
expanded indoor and outdoor meet-and-greet areas where shelter pets and families can get to know one another
Moving the animals into the new building is a MAJOR MILESTONE and critical step toward Phase II of our project, the construction of our new Pet Lifesaving and Medical Center. 
For gifts $2,500 and over, you can make a one-time gift or you can spread your gift over several months or years. If you'd like to make a gift over $5,000, you have questions about naming opportunities or you'd like to spread your gift over time contact Tom Weed at tweed@kitsap-humane.org or (360)692-6977 x 1224 or Eric Stevens at executivedirector@kitsap-humane.org or (360) 692-6977 ext 1115.

To date, we have raised just over $6 million of our $8.5 million fundraising goal! 
A new and enlarged building is needed to support our expanded lifesaving mission.  We are working in an outdated, overcrowded, inefficient facility. Our work is excellent … but our facility is not. Many improvements are needed, most of all, better housing for the animals.  The animals deserve better. Our Kitsap community deserves better, too – better conditions for adopters, staff, volunteers and all who love animals.
What the new building project will achieve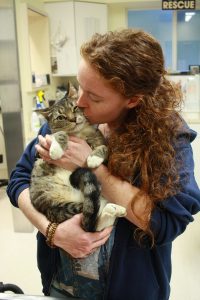 Our Pet Lifesaving Campaign building project will more than double the size of our shelter, via two phases of construction. Phase I, now underway, will add a new 9,000+ square foot "Pet Adoption Center," adjacent to the existing shelter (slated to open mid-August). Once the Pet Adoption Center is complete and open to the public, Phase II will consist of a complete, phased renovation and building of our Pet Lifesaving and Medical Center. The project will result in a facility that will provide:
Improved animal housing to enhance the health, comfort and care of the animals. Less stressful housing conditions will promote better health, resulting in faster adoptions (shorter lengths of stay) and more animals saved.
Improved behavior modification and training facilities.
Improved medical and surgical facilities to care for sick and injured shelter animals, as well as serving pets living in low-income households.
Improved ventilation systems to help reduce the spread of contagious diseases.
Increased space to support our growing Foster Care Program.
An enlarged and enhanced lobby to better serve the public.
Join us in building a humane community.

Would you like to learn more? Schedule a personal tour to see the existing shelter and our new building plans. You can call or email one of our campaign staff members:
Tom Weed, Director of Donor Relations, tweed@kitsap-humane.org / (360) 692-6977 X 1224
Eric Stevens, Executive Director, executivedirector@kitsap-humane.org / (360) 692-6977 X 1115
Read more here: