Pet Lifesaving Capital Campaign
The New Pet Adoption Center

is Open!
Construction of New Dog Behavior Training Center Now Underway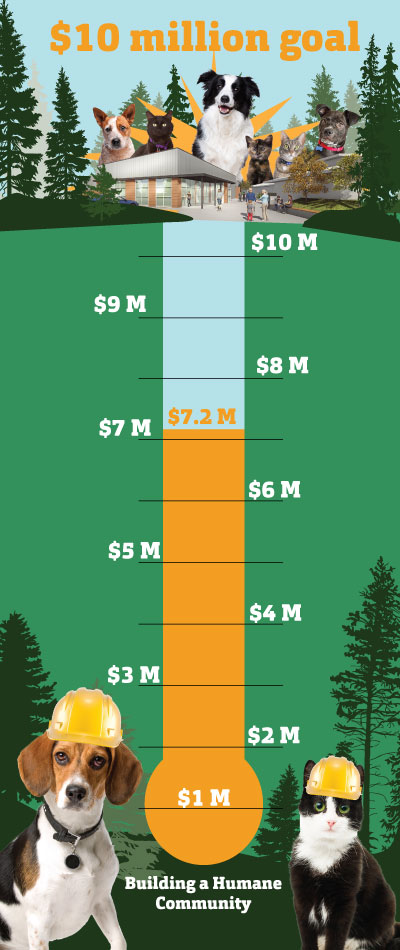 Phase 1 of our Pet Lifesaving Capital Campaign is now complete, and the new Pet Adoption Center is OPEN! The impact on the animals in our care is absolutely astounding. Dogs that were agitated and stressed by the noise and activity in the old kennels are now resting quietly in the new kennels. The change has been transformational for pets and people alike. 
Our Phase 2 vision has expanded, with two major goals, including:
A new Canine Behavior Training Center constructured within the old shelter. Construction got underway in January, and will be named in memory of Heidi Harnett Wakefield, a passionate advocate for shelter dogs.
A new Veterinary Lifesaving Center building that will expand and enhance both our shelter and public veterinary services.
To date, we have raised just over $7.2 million of our $10 million project goal! 
Would you like to learn more? Schedule a personal tour to see the existing shelter and our new building plans. You can call or email one of our campaign staff members:
Paula Rimmer, Director of Development, primmer@kitsap-humane.org / (360) 692-6977 X 1251
Eric Stevens, Executive Director, executivedirector@kitsap-humane.org / (360) 692-6977 X 1115

Join us in building a more humane community,
in Kitsap and beyond.