KHS Weekly Construction Update: 3/3
March 3, 2023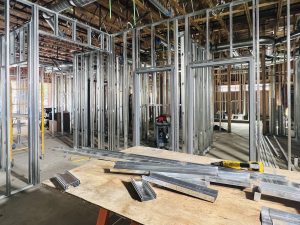 An exciting and busy week of construction on the Russ & Linda Young Veterinary Lifesaving Center! Each week, we'll provide a blog update on our construction progress.
As you'll see in the photos, it's really starting to take shape inside! This week, a lot of interior work was done (or continued) on the HVAC system, walls, and plumbing. Additionally, next week will include work on the ADA ramp and sidewalks.
In case you missed it, here is March's Shelter Tails as well as our latest timelapse footage. Be sure to get your paws on our new "Cultivate Compassion" apparel, hand-drawn by our graphic designer and on some really cool new tie-dye options in our merch shop! In just two and a half days, we've sold 67 pieces of apparel and made over $832! This limited-edition merch will be available until March 20, so get it while you can!
Photos by Lee Harper, Executive Director