KHS Weekly Construction Update: 12/9
December 9, 2022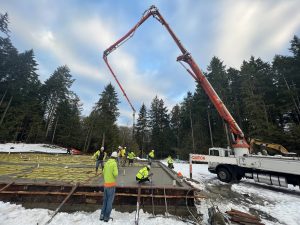 Construction continues on the Russ & Linda Young Veterinary Lifesaving Center! Each week, we'll provide a blog update on our construction progress.
This week, the construction crew from MRJ was outside, melting snow and getting the concrete slab poured! This had been delayed from last week due to snow, but with the assistance of technology and some heat, they got the snow melted, and the concrete slab poured.
In case you missed it, here's a link to our Sept. 8 – Dec. 5 Timelapse.
Next week, excavation will begin on a rock wall, as well as the start of wood framing!