KHS Canine Behavior & Training and Access to Veterinary Care Program Supported by Recent Grants
December 6, 2022
KHS is honored to be the recipient of two generous grants from Washington State funders who are investing in crucial KHS programs aimed at increased animal lifesaving and support for pets and the people who love them. 
KHS awarded $45,000 "Everyone Is on the Behavior Team" grant by the Gary and Carol Milgard Family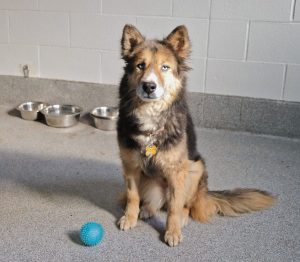 The Gary and Carol Milgard Family is taking an integrated care approach with their "Everyone is on the Behavior Team" grant which brings Veterinary Medicine, Shelter Operations, and Animal Behavior together for an interdepartmental evaluation and action plan for dogs who would benefit from learning new skills in order to better prepare them for adoption. This $45,000 grant supports KHS staffing and allows us to infuse behavioral support into every aspect of a dog's experience at KHS. Robust behavior and training are key building blocks that sustain and increase dog lifesaving, grow the success of foster, and support adopters and dog owners in the community. KHS is deeply grateful to the Gary and Carol Milgard Family for their generosity and partnership to support the canines in our community.
Who is the Gary and Carol Milgard Family?
Gary and Carol Milgard were lifelong residents of Lakewood and Tacoma Washington. They shared a passion for giving back to the community in which they worked, lived in, and raised their children. Through the Milgard window business, they created a community action-giving program as a way to support and educate employees through community service. This inspired the family to establish the Gary E. Milgard Family Foundation in 2000 which has continued to grow and evolve ever since.
Cowlitz Tribal Foundation Statewide Fund awards KHS $50,000 for Access to Veterinary Care Program
This November, the Cowlitz Tribal Foundation Statewide Fund granted KHS $50,000 for our Access to Veterinary Care program, an initiative created to meet urgent community demand and expand access to veterinary care for households experiencing difficulties by providing affordable vet care options. These funds will also be used with the opening of our new Russ & Linda Young Veterinary Lifesaving Center and Community which is expected to open in Fall 2023. KHS is dedicated to serving families with limited incomes in our community who have nowhere else to turn, and this grant makes that possible.
What is the Cowlitz Tribal Foundation Statewide Fund?
The Cowlitz Tribal Foundation Statewide Fund, established in 2019, is an arm of the tribe that exists to provide grants for the benefit of the people and communities of Washington State and to demonstrate the commitment of the Cowlitz Tribe and ilani, the tribe's casino, to community involvement and improvement.