Safety Tips for a Spooktacular Halloween
October 4, 2022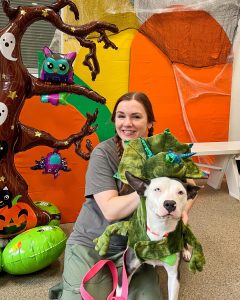 Spooky season is here and with it comes a few things to keep in mind regarding your pet's safety while you celebrate! Here are a few tips:
Beware of the trick-or-treaters!

While the spooky kiddos at your doorstep might be adorable to you, it is hard to predict how our pets will react

to masks, wigs, and costumes. Many find it frightening and would prefer to spend Halloween cuddled up in a safe space rather than at the door. Consider making a comfy room for your pets while trick-or-treaters are out and about. This way, your pet is safe from being scared and doesn't have the chance to run out the open door!

Before the holiday,

make sure your pet has up-to-date identification with a license, tag, and microchip

so they can be returned to you safe and sound if they do slip out the door.

While we love to see dogs dressed as superman and cats with their very own bat wings,

if your pet seems stressed, uncomfortable, or restricted by their costume it is best to take it off.

Try a festive sweater, collar, or bandana instead!

While candy is a sweet treat many of us look forward to enjoying on this fun holiday, it can be life-threatening for your pet! Many dogs will ingest chocolate, wrappers and all, which can be toxic or even fatal.

Make sure to keep your Halloween spoils out of your pet's reach and call your vet immediately if you suspect they have eaten something they shouldn't have.
Planning to carve the perfect pumpkin, remember to display it in a safe place!

No one wants a stray tail in the candle flame and if your pet consumes your marvelous creation they may end up with a stomach ache.
By taking a few precautions, you and your pets can have an extra happy Halloween!