Meet our October Puppuccino Pal Sponsor, Gig Harbor Canine Cottage
October 4, 2022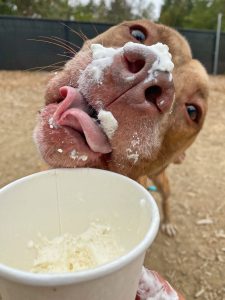 It is our pleasure to introduce our October Puppuccino Pal Sponsor, Gig Harbor Canine Cottage! Gig Harbor Canine Cottage is a local business that provides small-scale dog boarding with a calm, quiet, and stress-free environment. Canine guests can expect fluffy blankets, classical and calming music, 60 minutes of personalized exercise each day, and a variety of other services! 
"Dogs play such a pivotal role in our lives and give us so much joy, compassion and friendship so, more than booking out our cottage, we are here to support the community and their pets," said Gig Harbor Canine Cottage owner, Tracey Jones. "Not all dogs are a good match for our cottage, but we're always more than happy to schedule a meet-and-greet for potential clients to see our location and ask us any questions they may.  The goal is not only for the dog to be happy and comfortable during their time with us but for the client to be as well!  We, as a family, are so particular with who we board our family dogs with, we would expect nothing less from our potential clients!"
When asked why they chose to support KHS as a Puppuccino Pal Sponsor, Tracey said, " I grew up with rescue dogs and cats playing a huge part in my family! I have always had a heart for caring for rescues in any way possible so, although I would LOVE to foster one day, the Puppuccino Pal Sponsorship is such an awesome opportunity to financially partner with KHS when I may not have the time to fill a volunteer position or foster an animal." 
Learn more about Gig Harbor Canine Cottage!