Donate to Kitsap Humane Society's Holiday Food Drive Today
November 3, 2020
Please join Kitsap Humane Society in our second-annual community food drive during the month of November!
This special food drive for people and pets will help stock the shelves of Kitsap Humane Society's Pet Food Pantry, as well as the shelves of food banks throughout Kitsap County.
Last year, Kitsap Humane Society's community food drive collected 250 pounds of people food, and enough pet food to both restock our own pet food pantry and share with local food banks.  This holiday season, our goal is to collect 500 pounds of people food to help feed even more families in need.
The COVID-19 pandemic has caused financial challenges for numerous people, and many families are now facing food insecurity due to this crisis. By donating non-perishable groceries and pet food to Kitsap Humane Society, you will help ensure that families in our community don't have to make a choice between feeding themselves and feeding their pets.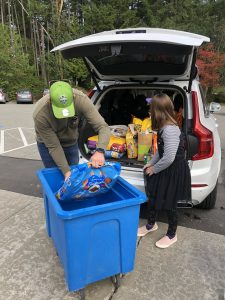 Please, help us help them this holiday season.
Details: Donations accepted daily from 8:00 a.m. to 5:00 p.m. in designated bins outside Kitsap Humane Society at 9167 Dickey Road NW Silverdale, WA 98383.  You can also have pet food and people food delivered directly to Kitsap Humane Society via our special community food drive Amazon Wish List.  Make your purchase through AmazonSmile, select Kitsap Humane Society as your charity of choice, and a percentage of eligible sales will be donated to help the animals. 
Please note: Perishable foods such as frozen turkeys should be donated directly to food banks; non-perishable items should not be expired or about to expire; we cannot accept opened items, but you can drop opened bags of pet food at many local food banks.
Most Needed Pet Food Items
       

Dry and canned cat food is in short supply at all local food banks!

       

Dog food (dry and canned)
Most Needed People Food Items
       

Canned and bottled products such as peanut butter, tuna, chili, soups, fruit, veggies, beans, tomato products, juice

       

Dry goods such as boxed dinners, rice, pasta, mac & cheese, cereal, crackers, sugar, condiments, tea, coffee, powdered drinks

       

Holiday meal ingredients such as yams/sweet potatoes, stuffing mix, instant potatoes, chicken broth, gravy mix or canned gravy, cranberries or fruit, canned veggies
Thank you for helping Kitsap Humane Society build a more humane community for us all!