Chief of Animal Control Proves Roots of Kitsap Humane Society Run Deep
October 28, 2020
Kitsap Humane Society's Chief of Animal Control proves that KHS roots run deep by continuing to carry a KHS tote bag from 1998.
Chief Chase Connolly was first hired in 2010 and has been Kitsap Humane Society's Chief of Animal Control for about nine years, but his involvement at KHS goes further back than his hire date.
When Connolly was a child his mother found a posting asking for volunteers at KHS. His mom thought it would be a good summer activity for him, so she told him about the opportunity. He was ecstatic. At the time, Connolly dreamed of becoming a veterinarian.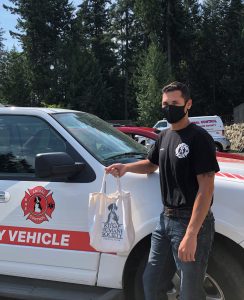 So, in the summer 1998, Connolly and his mother attended KHS volunteer orientation where they were given their shirts, name tags, and of course, the tote he carries today.
He started in humble beginnings here at KHS. Since Connolly was so young, his mother had to accompany him during his volunteer hours. Together they would prepare dogs for adoption by giving them a fresh bath.
"I remember coming in and washing the dogs that were odor-ific," Connolly said. "I preferred giving baths to the dogs that were up for adoption so they could go home smelling fresh and clean. I remember one day Animal Control brought in a litter of eight puppies that were all black lab mixes. These puppies were covered in nastiness from wherever they came from. It was a long day, but in batches of two, between my mom and I, we bathed all eight of those puppies. After washing all those puppies, we were soaked and smelled like wet dog."
Connolly said he was drawn to the older dogs who needed a little extra love. He spent time walking them and showing them the kindness that they deserved.
As he got older, Connolly felt less involved in KHS. However, twelve years after his volunteer orientation, he became a member of the Kitsap Humane Society staff and he's been here since.
"For some reason KHS has been a part of my life for many years, it has always been a familiar place to me," Connolly said. "I was hired on in 2010. The same year my mom was diagnosed with terminal cancer. This place has been a crutch for me as it has been for our community animals."