Caring for Animals in a Time of Crisis
April 3, 2020
As we all grapple with enormous challenges due to the COVID-19 outbreak, Kitsap Humane Society remains committed to providing essential lifesaving services for lost, homeless, abandoned and injured pets in need of rescue, shelter and veterinary care … But we need your support NOW to do it!
CARING FOR ANIMALS IN A TIME OF CRISIS
Kitsap Humane Society is an essential public service. But to ensure public safety during this crisis, we've reduced or halted many of our services and revenue-generating activities. Fundraising events are postponed until life returns to normal. Adoptions are restricted to appointment only. Hours have been reduced to limit public access. And low-cost spay-neuter appointments are cancelled until further notice.
Unfortunately, these public safety changes mean a considerable loss of revenue, right before our busiest time of our year. During spring and summer our shelter takes in over 500 pets a month who are stray, homeless, abandoned or injured, and in need of rescue, shelter, and lifesaving care. 
As sound fiscal stewards of our resources during this nationwide crisis, the KHS Board of Directors and I made the difficult decision to temporarily cut staff by nearly 50 percent and reduce other expenditures so that we can continue to serve vulnerable animals in our community and ensure KHS remains sustainable. We are doing our part, but we need our dedicated community to come forward. THE NEED IS URGENT.
OUR PLAN: A $300,000 EMERGENCY FUND AND MATCHING GIFT CAMPAIGN
As the animals keep on coming, we must raise $300,000 over the next four months to care for animals in need. To help us bridge this funding gap, several generous donors (we are so grateful!) have stepped up with a combined $150,000 matching gift opportunity. Your gifts can double that to $300,000!
Many of you are familiar with the Great Give, Kitsap's special day of giving, scheduled for April 21, 2020.You can help us secure KHS' $150,000 match through the Great Give. Here are three ways to give: 
Go online NOW to make your gift at Kitsap-Humane.org.
Schedule your Great Give gift now at kitsapgreatgive.org or make your gift on April 21.
All gifts raised up to $150,000 will be matched dollar for dollar through the KHS Emergency Fund and Matching Gift Campaign AND will be boosted even further by the Kitsap Community Foundation.
Your gift will be used to help us weather the COVID-19 crisis and continue to save thousands of animals' lives. Donations we receive NOW will support our essential lifesaving rescue, medical and rehoming services and ensure that no animal suffers unnecessarily. With your support, and this extraordinary matching gift campaign, we can continue to serve the 2,000+ animals who will need us most this spring and summer.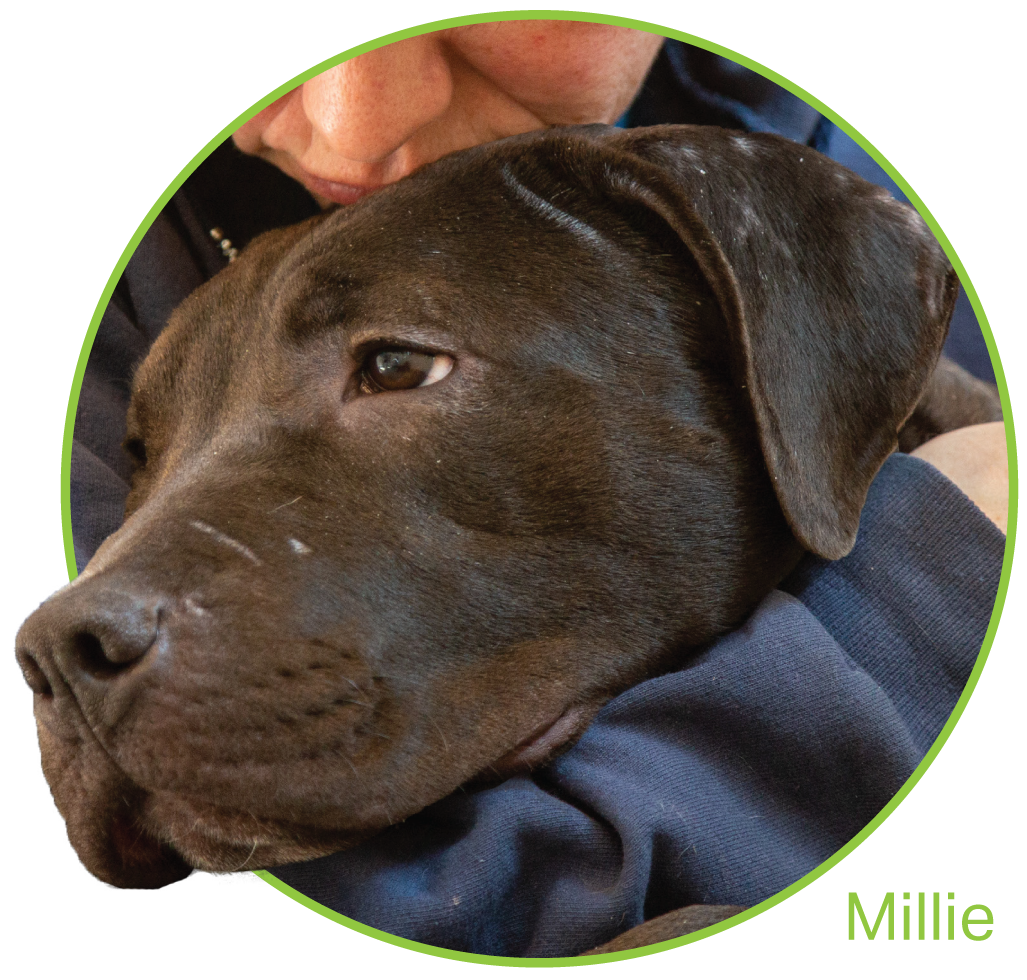 … Pets like Millie, a puppy brought to us with deep and painful bite wounds all over her body from attacks over food from four other dogs, all living outside without supervision. Millie needed extensive veterinary care for her injuries, and she needed a lot of human tenderness and support after her ordeal. Our volunteers and staff – even our veterinarians – spent time comforting Millie in her kennel so that she would know human kindness. This is what we do for pets in need.
At many other shelters, hurting, homeless pets like Millie wouldn't have a chance. But what happens at KHS doesn't happen in many other shelters. Kitsap Humane Society is THE safety net for more than 6,000 animals each year. Your investment in our pet lifesaving mission is an essential part of the KHS story and enables us to achieve a remarkable 96 percent lifesaving rate – one of the best in the nation for the last five years!
Your support matters more than ever during this time of crisis! 
PLEASE, MAKE YOUR DONATION NOW AND DOUBLE YOUR IMPACT FOR ANIMALS IN NEED. All donations received will be matched 1:1 until we reach $150,000, raising the $300,000 we need during the next few months. ONLY compassionate animal lovers like you make our lifesaving work possible.
Thank you for your generosity, compassion, and partnership as we work together to serve vulnerable animals in this time of crisis and build a more humane community, one rescued pet at a time.