DISCOUNTED Cat & Kitten Adoptions in September!
September 12, 2016
In order to help as many cats and kittens as possible this September, KHS is reducing adoption fees for all felines this month!!! 
Adoption fees for all adult cats (over 6 months old) are half-off all month! And every Friday at KHS is Feline Friday, when adoption fees for all adult cats are just $30!
Adoption fees for all older adult cats (over 7 years) are just $25 all month! This reduced adoption fee for senior cats is thanks to a partnership between KHS and Best Friends Animal Society's No More Homeless Pets Network!
Adoption fees for kittens are also reduced- you can adopt one kitten for $100 (discount of $50), or two kittens for $150 (through our BOGO/Adopt-a-Buddy discount) all month!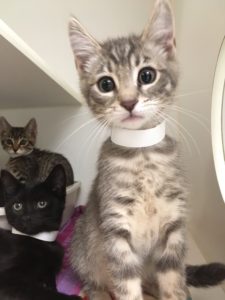 KHS adoption counselors are onsite to help you find the best match for your family and lifestyle. And with the money left over from discounted adoption fees, you'll be able to get a couple extra toys and treats for your new feline family member! KHS sells kitten/cat starter kits (complete with a litter box, small bag of litter and litter scoop), collars, tags, kitty toys and gently used cat trees and scratching posts!
The discounted adoption fees in September are good for cat and kitten adoption fees at KHS's main shelter location, as well as all off-site weekend adoption events and at our off-site adoption centers at Naturally 4 Paws in Silverdale and PetSmart in Lacey, WA.
For info on adopting from KHS, visit the Adoption page.