Kitsap Humane Society uses a walk-up and queue-based first-come, first-served adoption system. We are open for adoptions Wednesday-Monday from noon to 4 pm.
For information on our queue-based first-come, first-served adoption system, click on the "How to Adopt" icon. Please note, if you are interested in meeting with a pet in foster care, you must email your  dog, cat, small animal, or livestock adoption survey to adoptions@kitsap-humane.org so that we may schedule a time for you to meet with the pet.
---
Kitsap Humane Society has a wide selection of dogs and cats of all sizes, ages, breeds, and personalities available for adoption! Small animals, birds, and livestock are also occasionally at the shelter and in need of homes.
Each adoption for dogs and cats includes:
Spay or neuter surgery

Microchip with registration through Home Again

Initial vaccinations

Intestinal de-worming

Initial flea treatment

Free post-adoption exam at local participating veterinarians

Reference material on pet care and training

Post-adoption behavior support, as needed

One week of free dog training and support through GoodPup, and 20% off lifetime membership afterward for dog adopters
In addition to the animals that are available at the shelter, adoptable pets can also be found around the region at weekly adoption events.  Adoptable cats and kittens are also available at our off-site adoption locations. We make adopting easy and fun, so come find us in your community!
Additional services and retail items for sale to adopters, including:
Pet licenses

for all Kitsap County municipalities

FIV/FeLV testing for cats

Engraved ID tags

Collars and leashes

Cat carriers

Single dose and full boxes of Advantage flea treatment

Pet beds, toys, clothing and other miscellaneous items
Frequently Asked Questions:
How much does it cost to adopt a pet from Kitsap Humane Society?
You can view all of our adoption prices listed here!
What does the adoption price cover?

Adoption prices vary based on an animal's age, size, breed, medical condition, or length of time in the shelter. When you adopt from KHS, your adoption fee helps provide medical care, food, and shelter to the thousands of animals in our care annually.
Pets in our care receive a wellness examination. All dogs and cats in our care receive a spay/neuter surgery, a microchip with national registration, their initial vaccines, and often additional medical care, training, and even time in a foster home depending on their needs. Adopters receive one complimentary office visit through our Veterinary Partnership Program with one of our participating veterinary clinics as well as pet care counseling and support.
Do I need an appointment?
No! Beginning June 2, 2021, we have resumed first-come, first-served adoptions. We are open for adoptions Wednesday – Monday from 12-4 pm. You can review our entire adoption process here.
Can I bring my family and/or roommates with me to meet the pet?
All members of your household are invited to come to meet with the pet you're interested in. Some of our dogs will need to meet all members of the household before an adoption can be finalized.
Can I bring my other pet(s) to meet the animal?
For dogs ages 6 months and older, if you have any other dogs in your home, they must accompany you to the shelter to ensure a good match. If you're adopting any other animal type, such as a puppy, cat, kitten, or small animal, we are not able to perform introductions at the shelter, so please do not bring your pets with you. Your adoption counselor will go over with you how to do proper introductions between your new pet and resident animals at home.
I have children and/or other pets at home. Can I still adopt?
Absolutely! We do our best to place pets in homes that meet their needs. Some pets thrive with children and other pets, and others don't. We have so many wonderful pets in our care that needs homes – you are bound to find your perfect match!
I'm interested in adopting, but I'm not sure if I'm ready. Can I foster an animal first?
Of course!  While not all pets available for adoption are eligible for foster, if you're open to fostering an animal in need – our foster program is not only a wonderful way to help pets in need but also to determine if you might be ready for a long-term commitment like adoption. Please visit our foster page for more information.
I found a pet that I love, but I can't adopt quite yet. Will you hold the pet for me?
Absolutely! Our goal is to find each pet in our care a loving and lasting home in the shortest amount of time possible. If you need some time to make a decision, we will hold your favorite pet for up to 24 hours with a small deposit. If you decide to move forward with an adoption, your deposit will go toward the adoption fees. If not, it will be donated to KHS. 
Where is your shelter?
We are located at 9167 Dickey Road NW in Silverdale, Washington. Our adoption hours are Wednesday – Monday from 12-4 pm. Get directions!
I need assistance with my pet – what can I do?
We are here to help! If you would like information about training or other solutions for your dog, please contact dogbehavior@kitsap-humane.org, and for cat owners, please contact catbehavior@kitsap-humane.org.
Success Stories
Each year, Kitsap Humane Society finds homes for thousands of shelter animals. Thank you to our adopters who make this incredible live-saving program possible! Kitsap Humane Society loves hearing from our adopters! Updates from adopters are regularly featured on the KHS Facebook Page. Submit your story below.
Featured Success Story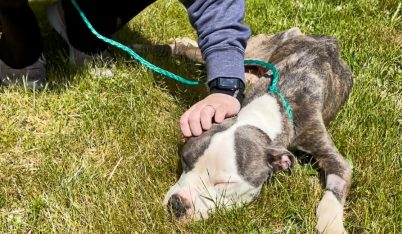 A Life Transformed: Meet Dean
Two months ago, a community member and her child were walking along a local beach. They spotted something in the distance but had to move closer to see if their eyes were deceiving them. There, lying in the cold rain amongst the sand and rock, was a dog. His body was emaciated, and his limbs… Read Entire Story »