Any Home Can Be a Foster Home
May 4, 2022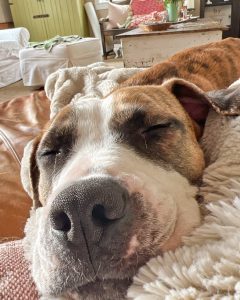 Here at KHS, we believe that any home can be a foster home! In 2021, over 1,000 animals spent time in our foster homes and now we are working to continue increasing that number, "One of our biggest goals at KHS is to switch to a foster-centric model of sheltering, meaning that we have more animals in foster homes than at the shelter and we can't do this without more foster homes!" said Holly Faccenda, KHS Foster Manager. With this foster-centric ideal in mind, we are expanding our foster care program by actively working to increase accessibility and decrease barriers to fostering in our community.
Part of making fostering more accessible means educating our community on what a commitment to fostering looks like. Who and how long you foster for is totally up to you! Any amount of time an animal spends in a foster home is beneficial, whether that's giving short-term kennel breaks to stressed dogs or raising kittens and puppies until they're old enough to be adopted! "Even if you can't commit to something long-term, you can make a positive and lasting impact on an animal's life," said Faccenda.
In addition, our foster team is working to decrease barriers to fostering by providing foster training and ongoing mentorship to help guide new fosters on their fostering journey! "Fostering is fun and you'll have a huge support system with you the whole way!" said Faccenda.
Our upcoming "Any Home Can Be a Foster Home" campaign comes at a perfect time because we are currently participating in Maddie's Fund We Foster Challenge which gives KHS a chance to win grant money to support the animals in our care! As a part of the Challenge, we are currently throwing a month-long Pawjama Party where we are encouraging fosters to take a dog on an overnight sleepover. Our goal is to place as many dogs as possible into foster homes during the month of May. Dogs get a nice break from the shelter and KHS gets a chance to win grant money to support the animals – it's a win-win!