From Neonatal to Feline Panleukopenia: Meet the Kitten Foster that Does It All
October 6, 2021
Meet Karen Mitchell!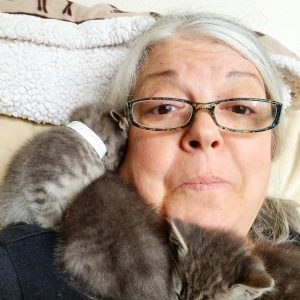 Karen has fostered nearly 200 kittens since she joined the team in 2017. However, this number doesn't account for the dozens of bottle-fed kittens Karen has fostered overnight because they had nowhere else to go or the endless number of ways she helps support the foster department. 
Karen fosters some of our youngest and most critical care kittens. You name it, Karen has fostered it – kittens with panleukopenia, kittens with severe flea infestations and flea anemia, kittens needing subcutaneous fluids up to several times a day, several hours old kittens needing feeding every two hours (even throughout the night), and countless others. "I often say that if I were a kitten, I'd like Karen to foster me!" said Holly Faccenda, Foster Care Coordinator.
"In the Spring and Summer months, we in the foster department rely heavily on Karen with the sheer number of bottle-fed kittens we have come in," said Holly. "I don't know how much sleep Karen gets during these months (I know not enough!), but she always has a smile on her face and is offering to support in any way possible. Karen's husband, Mike, is also a huge help and will often jump into bottle feed and care for the kittens – dream bottle baby duo!"
In addition to always having a foster kitten or two (or three or four..), Karen acts as a mentor to other foster parents when they are taking in bottle babies for the first time or are caring for critical care kittens and need a little extra support and guidance. And if fostering year-round wasn't enough, Karen is also a Volunteer Adoption Counselor and helps with cat and kitten adoptions once a week and when KHS has offsite adoption events! 
"I foster because it needs to be done," said Karen. "Shelters are over capacity a lot of the time and fostering alleviates some of the burdens that shelters face. Being in a home is often less stressful for shelter animals.  Yes, I won't lie. It's a lot of work.  Mostly, it's a lot of laundry.  Yes, I get up in the middle of the night. Trust me, it's worth it. There are days I'm examining poop and think, "what has happened to my life?" I have often held a dirty, flea-infested baby while it passes. Ignoring the bites, while I sing a silly love song, tears streaming down my face. Fostering is not for the weak." 
"But the best part of fostering for KHS is the community. I work with people that love animals. We all give time, love, and money as we invest in the future of these shelter animals. Animals that will become companions and friends. Someone to come home to after a long day. Someone to offer support when we are scared, depressed, or anxious. Barks, purrs, squawks, and squeaks to celebrate a great day. A heartbeat next to yours when you're feeling alone. These pets give so much more to us than we can ever give to them. That is why I foster."
Want to join our lifesaving foster network? You can get started here!