An Unlikely Trio: The Bond Between Avery, Bear, and Snickers
March 9, 2021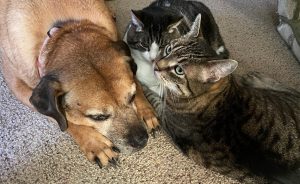 Fourteen years ago, a trio of unlikely pets began to come together. When Suzanne Piecuch Heinemann adopted Avery from KHS in 2007, she could never have guessed what her furry family would become…
"Avery was the first dog I had of my very own after moving out of my parent's house," she said. "It was just him and I for a while." 
Sometime later, Suzanne found herself taking in another rescue animal. A small kitten, named Snickers, came into Suzanne's furry-family after her friend, who had recently adopted Snickers from KHS, passed away unexpectedly. 
Then, in 2010, Avery, Snickers, and Suzanne made room in their hearts for Bear, another loving cat. These three kindred spirits created a bond unlike most.
"Avery loved people and long walks. He was a big dog who thought he was a lap dog," Suzanne said. "He was a fast learner and was always ready to discover something new. He loved both praise and treats! Snickers is the shy one and Bear is very friendly, outgoing, and also loves treats. Bear is such a happy, easy-going guy. All you have to do is look at him and he starts purring."
As time went on, Avery began to encounter some health complications but Snickers and Bear were there for him every step of the way.
"Snickers ended up being the sweetest caretaker of Avery when he grew old. We referred to Snickers as our hospice kitty, since he always wanted to be by Avery's side when Avery was anxious or not feeling well at the end," she said.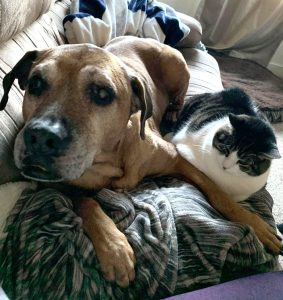 "One day, Avery and Bear had a veterinary appointment together. Due to the pandemic, we couldn't go into our vet's office. Avery has always been a bit nervous at the vet, but Bear just makes himself right at home. At the end of the visit, they told me how sweet they thought it was that Bear was being so affectionate to Avery and comforting him during the visit. They said it was actually hard for the vet to hear Bear's heartbeat through the stethoscope because he purred so loudly through the entire visit."
After 15 years of love and comfort, Suzanne, Snickers, and Bear had to say goodbye to Avery.
"He was an angel of a boy. We miss him dearly," said Suzzane. "All of our pets are wonderful and have brought and continue to bring so much joy to our lives. Honestly, we couldn't be more grateful that KHS does so much great work for animals in our community."