One Unique Cat Finds His Unique Forever Family
January 13, 2021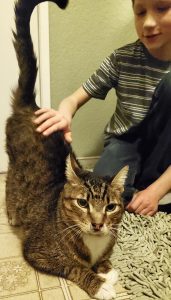 After almost two months at Kitsap Humane Society, our unique pal Thomas has found the loving family he always wanted. 
Every kitty is a little different… Thomas is an adorable senior cat who came to Kitsap Humane Society as a stray. When Thomas came to us, his upper lip was red and sore. Our vets diagnosed him with a condition called Indolent Ulcer, also known as rodent ulcer. His condition means that he had allergies that were left untreated, resulting in inflammation of his upper lip. Once Thomas was at KHS, our vet team got him started on treatment right away, and he is now feeling a lot better! 
"Thomas has been doing great!" said his adopter. "With him being an older cat, we have tried to introduce him to the household slowly. But he fell in love with everyone as soon as he got here. Though his medicine isn't his favorite thing, Thomas does a pretty good job taking it. 
He is one of the most snuggly cats I have ever seen. The kids immediately fell in love, and Thomas already seems to understand when they've had a bad day and need some extra love. He just lays right next to them and lets them snuggle until everyone feels better. We found that when he purrs, he sounds just like a pigeon!
He loves to sit on his new cat tree and look out the window. He is such a hilarious cat and loves to chase and play with his tail. Sometimes he does this on top of his cat tree and flops all over the place. 
Thomas may be different from other cats, but he fits our family perfectly. We couldn't be happier to have Thomas in our family."
Submitted by Kat Nicholson