A Year Like No Other – 2020 Highlights
January 13, 2021
It is no secret that 2020 has been a difficult year for our community and society as a whole. Even though Kitsap Humane Society faced challenges we had never seen before, the wonderful support of our community and the hard work of our staff and volunteers helped us continue to provide lifesaving care to animals in need.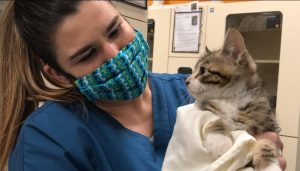 Here are the high points from this year unlike any other:
Despite the pandemic, KHS achieved a lifesaving rate of 96.83%

, one of the highest in the country for six years running, and

3,676 pets were rehomed.

We onboarded

93 new foster homes and placed 1,042 pets in loving foster homes

this year. Nearly 30% of all pets who came to KHS in 2020 spent time in foster homes, significantly higher than in any year prior.

Due to our new appointment-based adoption process,

our pets' average length of in-shelter stay and return rate decreased.

From March to June,

KHS Animal Control rescued 29 cats

from an overcrowded, unsafe residence known to have cats infected with panleukopenia (a highly contagious, highly fatal virus for cats). All of the cats and kittens survived due to the care they received at KHS and have all since been adopted.

Our new behavior and training center for shelter dogs opened this July, and we were able to implement a formal, progressive Canine Enrichment program during the pandemic. It has been a huge success, ensuring

every single dog gets enrichment every single day!
In 2020, we faced many challenges in how we regularly provide care and service to the community, including the temporary shutdown of spay and neuter procedures, and more.

Thanks to your support, KHS felt the love more than ever despite these difficulties.
The public donated hundreds of masks to KHS staff and volunteers, particularly early on in the pandemic, which was incredibly helpful.
KHS's emergency call-to-action sent out in April was extremely successful and helped provide care to animals in need
Because of your generosity, KHS was able to keep its Pet Food Pantry shelves stocked, which was accessed approximately 900 times by hundreds of pet owners in need during 2020.