54 Guinea Pigs Rescued from Seabeck Property
September 8, 2020
Fifty-four guinea pigs, including pregnant females and lots of babies – were rescued Aug. 26 by Kitsap Humane Society Animal Control officers from filthy, crowded cages kept outdoors on a Seabeck property. All the animals are now safe and in the care of KHS and other rescue groups, and four have been adopted by their rescuers.
Thankfully, most of the guinea pigs are in good shape, considering their poor housing conditions. A few of them have ears that have been bitten – a result of overcrowding — and some had paws with urine burns from living in dirty cages.
The animals were rescued in response to an anonymous tip by a concerned citizen. At KHS, the animals were welcomed with snuggles from our officers and examined by our veterinary staff. To provide intake for 54 animals all at once, KHS staff converted one of our new canine behavior training center rooms into a temporary guinea pig triage and housing hub. Of the 54 animals, 12 were obviously pregnant, 10 were juvenile males and 32 were juvenile females who are being monitored for possible pregnancy. The animalswere separated into groups by age and sex into clean kennels with fresh bedding, food and water.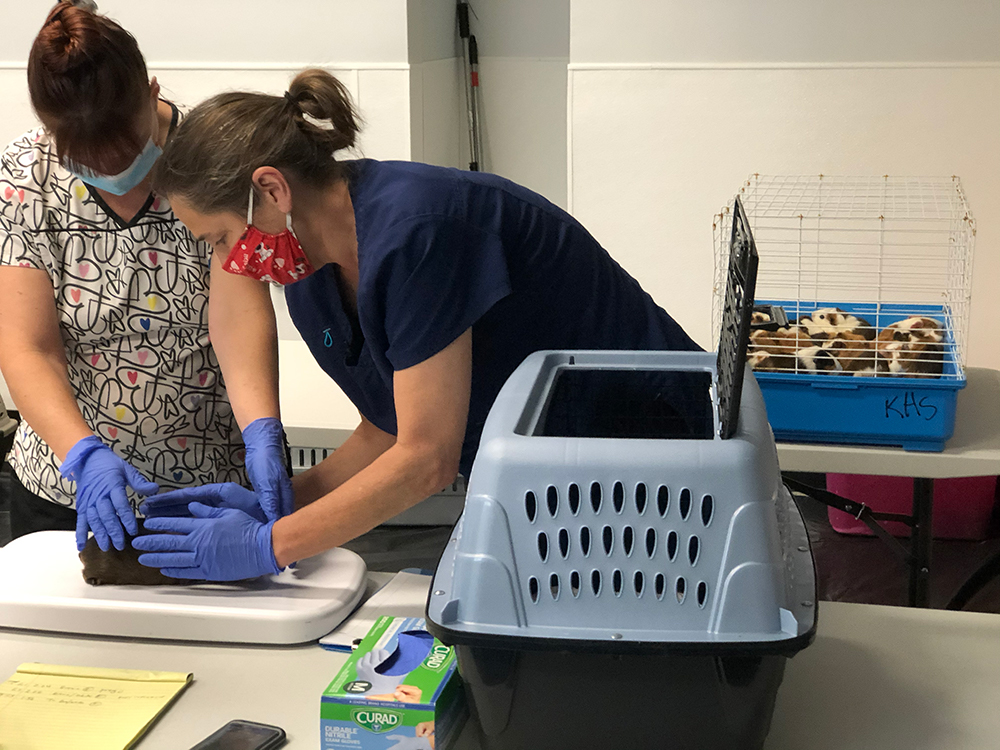 "Taking in animals in such a large-scale rescue always challenges and really stretches our staff, but this was handled excellently from start to finish," said Sarah Moody Cook, KHS director of animal welfare. She also thanked the community, including donors, foster families, volunteers, and rescue partners, for stepping up to help. Some of the agencies who assisted include the humane societies in Whatcom County, Seattle, Tacoma, Auburn Valley and Motley Zoo Animal Rescue.
Most of the boy guinea pigs are in foster now and being placed for adoption soon with rescue groups throughout the region.
Animal control officers said the owner of the guinea pigs was cooperative and willingly surrendered the animals to KHS, after being informed that the housing for the animals was inadequate and possibly a violation of animal cruelty laws. The owner told officers he was breeding the guinea pigs for sale.
"The shelter and our Animal Control officers are here to support community members who need us," Moody-Cook said. "Many people don't intend for things to get out of control, and it's important for us to have compassion for people and help the animals get what they need."
This is not the first time KHS has been involved in a large-scale rescue in Kitsap, although it is the first to involve so many guinea pigs. In 2019, KHS rescued more than 250 bunnies from a hoarding situation in Poulsbo, the largest such rescue in our history.