Thank you, Kitsap, for Your Extraordinary Generosity
May 6, 2020
We're so very grateful for our caring, compassionate and generous community. Your support for Kitsap Humane Society and the care we provide to homeless, injured and abandoned animals has been nothing short of extraordinary.
When KHS was forced to lay off staff and revamp operations due to COVID-19, we didn't know what would happen next.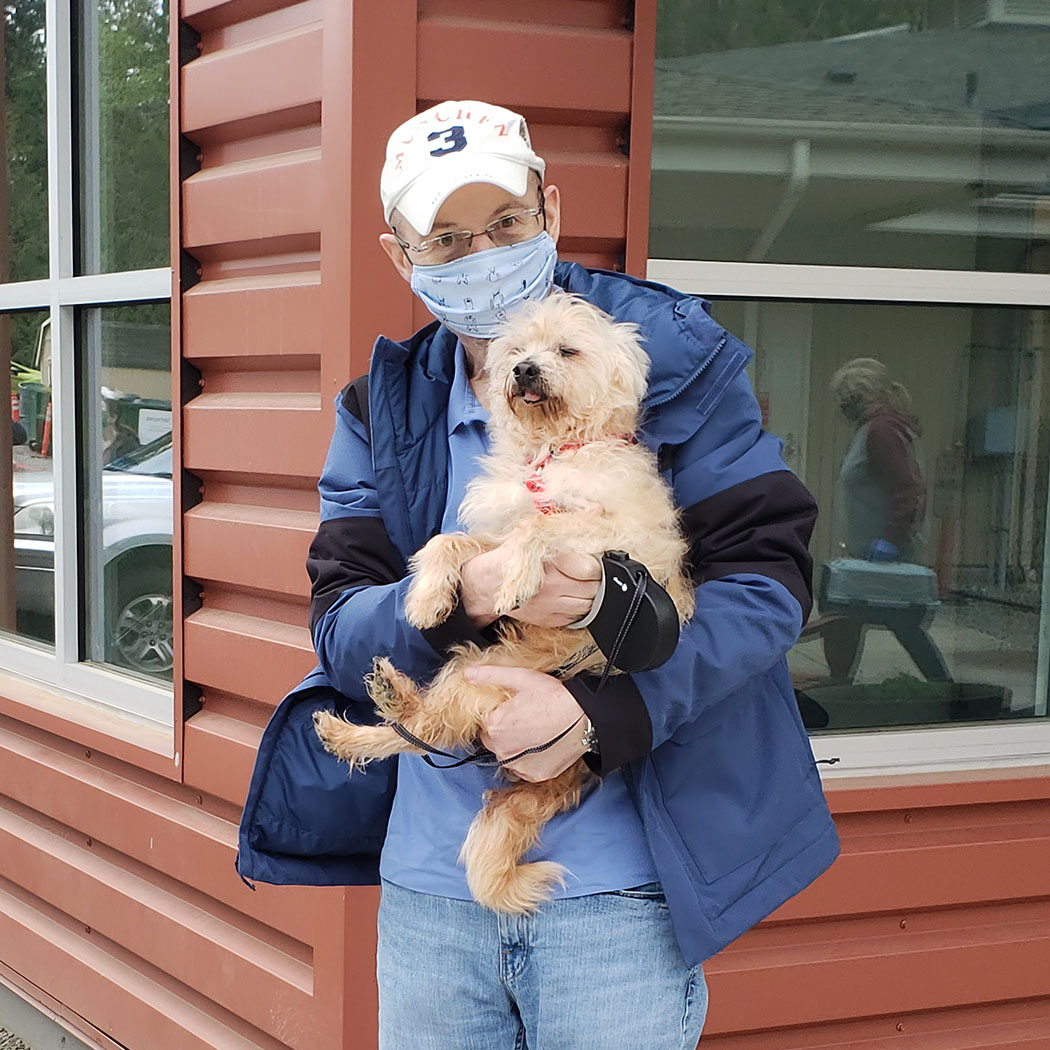 To care for animals in this time of crisis, we asked for your help. You responded by exceeding the $300,000 goal for our Emergency Fund & Matching Gift Campaign, but that's not all. Your generosity in every aspect of our lifesaving work has blown us away!
Mark, right, wanted to adopt a senior pet, knowing they're often overlooked for younger animals. He saw 14-year-old Bruiser on our website and made an appointment to meet him. Our staff described this pairing as love at first sight. Bruiser came to the shelter as a medical rescue after his owner passed away, and Mark promises that this sweet Cairn Terrier mix, will be cherished, loved and cared for in his golden years. Thank you, Mark!
Other highlights include:
Hundreds of volunteers and foster parents are helping us care for animals, both at the shelter and in their homes. It takes a village, and our community is so generous with its time, talent and love for animals. Thank you!
More than 260 pets have been adopted into loving homes since March 18, despite a reduction in hours, limits on customers in our Pet Adoption Center, and a new adoption appointment system. It takes perseverance and commitment to adopt in the age of coronavirus, and we are grateful to every one of our customers.
Animal lovers of all ages have stepped up to help us do our work by making cloth and plexiglass masks for our staff, by donating pet food to our Pet Food Pantry, and by sending donations.
Animal lovers in Kitsap made record-breaking 888 gifts totaling $119,000 to KHS during the 2020 Kitsap Great Give.
On behalf of the animals in our care, THANK YOU and PAWS UP for your support!