Wineries Share Their Love for Rescued Pets
August 1, 2019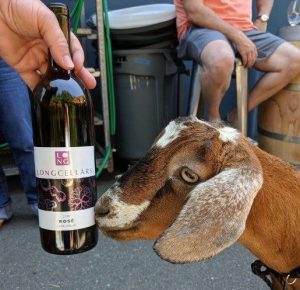 Kitsap Wine Festival is going to the dogs … and cats!
Proceeds from this year's festival on Aug. 10 are supporting shelter pets in need at Kitsap Humane Society.
More than 30 wineries and food vendors will provide delicious sips and tasty bites for Kitsap Wine Festival
guests at Harborside Fountain Park in Bremerton, with scenic views of Puget Sound and passing ferries.
Raising a glass to shelter pets this year will be several wineries whose families and staff have enjoyed the
companionship of animals, many of them rescued.
Long Cellars in Woodinville will be pouring their Bordeaux style wines at the festival, but back at the
winery, rescue goats occasionally visit for sipping and petting, and for wine and goat yoga events. Owner
and winemaker Jason Long said he's long had a fascination with goats and has made friends with 16
adorable goats whose lives were saved at the end of their dairy and breeding careers by Lucy Lotto of
Phantom Farm in Stanwood. "Every summer a few of them visit Long Cellars in Woodinville so people can
experience their silly antics and learn about how the rescue arrangement works," said Long.
Recent visitors to the winery's Wine and Goats event included Blueberry, Valentine, Sammy, Han Solo,
and Princess Lea, much to the delight of visiting vinophiles.
David Volmut and his wife Jennifer States craft Italian-style wines from Washington state grapes at Wind
Rose Cellars in Sequim, where they reside with rescue dogs Caesar and Marco, "an integral part of our
lives," Volmut said. "Their happiness gives us joy. We like to take them on walks and hikes for exercise.
Like humans, they like to stop and smell the flowers."
Volmut said his family will be pouring wines at the Kitsap Wine Festival and are excited that KHS is the
charity beneficiary this year. "It helps raise awareness about the animals available for adoption while
raising funds to care for homeless, abandoned and hurting animals in the community," he said.
Another winery pouring at the Kitsap Wine Festival this year will be Raptor Ridge Winery in Newberg, Ore.,
and where dogs and wine go together like their notable Pinot Noir and a summer dinner al fresco. Winery
dogs Anise and Chamois became part of the winemaking family in 2010.
"The much-loved Chamois lived a long life at Raptor Ridge and left us about two years ago at 13 years,"
said Annie Shull, proprietor and director of national sales. At that point, Anise started accompanying Shull
to work every day. She can often be found cuddling under Shull's desk or greeting visitors in the tasting
room on her way out to the vineyard for her favorite pastime: making her mama take a break from work
to play a game of catch!
Port Townsend Vineyards also has a heart for rescue animals – in their case, rescued farm animals! At
Kitsap Wine Festival, they'll be pouring a collection of sparkling and still wines that reflect the coastal
Puget Sound region, as well as varietals admired throughout the Pacific Northwest.
Visit the winery, and you may get a glimpse of the rescued goats, Soay sheep, and even a llama named
Jefferson doing a little weed eating on the vineyard property, said KC Vessey, operations manager.
Jefferson also protects smaller animals on the farm from coyotes and other predators, Vessey said.
If you have a heart for rescue animals, buy your tickets now to the Kitsap Wine Festival at
https://kitsapwinefestival.brownpapertickets.com/ Tickets are $65 per person and include 12 drink
tickets, food samples from each vendor and a commemorative wine glass. VIP experience tickets are $100,
include early access at 1 p.m., 15 drink tickets, food samples from each vendor, five raffle tickets and a
commemorative wine glass.