A Great Give Thank You!
April 24, 2019
Thank you, Kitsap, for your generous support for the animals in our care during Kitsap Great Give!
With your support, $73,622 was raised to help KHS care for the homeless puppies, kittens and injured pets who come through our doors at this time of year.  Our Kitsap community is compassionate and generous when it comes to helping pets in need. In fact, 481 donations were made to Kitsap Humane Society during the Great Give, the highest number of gifts made to a single nonprofit!
Thank you to all who donated, including members of our board of directors, who gave a $10,000 challenge gift once we had passed our $60,000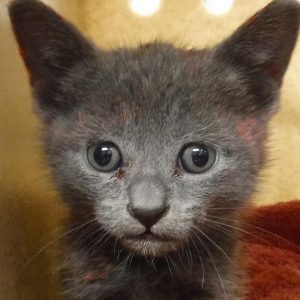 goal.
Funds raised during the Great Give help us provide care to pets like Ruby, a newborn kitten was found on a property in Port Orchard, covered in red paint, and brought to us by a neighbor. We named her Ruby, and our veterinary team examined her and tended to her fragile health. She was placed in a volunteer foster home for care and nurturing until she was old enough to be adopted, and with time, the red paint came off and her beautiful fur gleamed. She has since been adopted into a loving home of her own!
Our work throughout the year results in a community that trusts us, partners with us, adopts from us, advocates for us and donates to support our mission. We are so very grateful for this support.
On behalf of Ruby and all the pets who needed our care, THANK YOU!!!