Fostering Kittens is Rewarding!
April 20, 2018
Kitten season is fa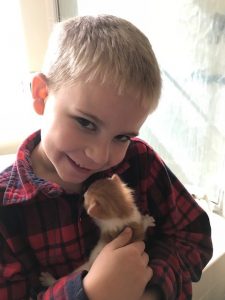 st approaching, and that means Kitsap Humane Society needs families who love pets to join our foster parent brigade!
In animal welfare, spring is known as "kitten season," (and to a lesser extent, puppy season) which lasts until fall. It's the time of year when nearly every unspayed female cat with access to the outdoors will become pregnant, adding to the population of homeless, unwanted and abandoned pets in the community. You can help by fostering, by adopting a cat at your local shelter, and by making sure your pets are spayed and neutered to prevent unwanted pregnancies.
Foster Parents are Critical to Our Mission
Kittens are far too fragile and vulnerable to be in the shelter environment before they are 8 weeks old (when they can be fixed and adopted). Until then, they need to be in a quiet, warm, clean home environment with their mama (if they have one) so they can grow, and their immune systems develop. Very young orphaned kittens must be bottle-fed around the clock, and we rely on foster parents for this critical task. But many kittens in need of foster care are already eating on their own and only need a few weeks of care and love until they are ready for adoption.
"Foster parents are vital to helping these kittens grow and flourish," said Megan Allan, KHS Foster Care Coordinator. "A lot of people don't realize that many adoptable kittens have spent weeks in foster care, and that the love and dedication provided by foster families is integral to their social development as well as their health. To me, foster parents really are the unsung heroes of so much of what we achieve here at KHS."
Fostering is an ideal way for families with children to volunteer for their local animal shelter.
Carrie and Jesse Bivens and their four children rescued and bottle-fed an orphaned kitten two years ago, which made a strong impact on all of them.
"We started thinking about how we might take care of another creature that needed nurturance and care," and were encouraged to foster for KHS by a friend, Carrie said. A week ago, the family became foster parents to a mama kitty and her six 2-week-old kittens, who had been removed from a home with too many cats. The kids have named the mama Sally and her kittens are Columbus, Oreo, Marshmallow, Hunter, Trixie and Betty.
"Right now, it's mostly about taking care of mama, who was very skinny and scared, and making sure she's eating well. And there's one kitten with a cold who needs medicine," Carrie said.
Fostering Teaches Responsibility, Compassion
Fostering "is a great way to teach responsibility, compassion and mercy, and about the process of life," she said. "We'll have them until they're 8 weeks old, and then they'll be spayed and neutered (along with mama) and be made available for adoption. They'll be a step ahead, because they will all be good with children."
Allan said that the Bivens' foster kittens just came in for check-ups and "are growing really well! They look really healthy and their little personalities are coming out gr
eat."
While there is a high need for foster parents during kitten season, Kitsap Humane Society relies on foster parents all year long to care for healthy, sick and injured dog
s of all sizes, breeds and ages, and for sick and injured cats.
By taking a foster animal into your home on a temporary basis, the animal is given the opportunity to adjust to a home environment, given additional time to find a permanent home, and more room is available at the shelter for another animal in need.
Interested in Fostering?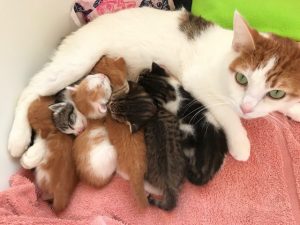 Kitsap Humane Society provides foster care volunteers and their foster pets with pet food, basic vet care, and behavior training resources and support as needed. All foster parents are paired with an experienced foster mentor who can provide one-on-one support.
As a foster parent, you will provide your animals with care, including food, water, shelter, litter, training and trips to Kitsap Humane Society for medical treatment when necessary.
The length of foster care commitment varies widely based on each animal. Some animals may only need a couple weeks of foster care; other animals may need many month
s of foster care. The length of time can depend on the animal's age, medical issues or adoptability.
If you and your family are interested in fostering pets at Kitsap Humane Society, go to https://www.kitsap-humane.org/get-involved/foster-care/ to learn more about the training and application, and other requirements for families with resident pets in the home.
At the Bivens household, the mama and kittens are being nurtured in a spare bathroom. She expects there will be a range of emotions from the children when the litter goes back to the shelter for adoption. They do plan to foster again in the future.
"I think it will hard to say goodbye, but it will be nice to get my bathroom back," she said.