You came. You drank. You gave. And together, we saved lives!
April 24, 2018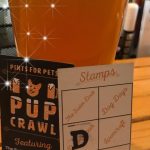 On April 11, over 100 of you completed our first ever month-long Pup Crawl. You guys blew us away with your support!  On March 12, we launched our Pup Crawl at the Swimdeck Gastro Pub in Port Orchard and had nearly 200 people come out for good food, great drinks, and glass etching by Guinness. We spent the next four weeks slowly crawling our way to four of our regular Pints for Pets partners, Lovecraft Brewing Co., Dog Days Brewing, Downpour Brewing and Bainbridge Brewing. We sometimes crawled together. We sometimes crawled with friends. We often crawled with our pups.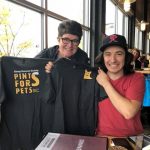 On April 11, we celebrated the end of our crawl by getting our last stamp at Bremerton Bar & Grill. From 5 to 10 p.m. on Wed., April 11, Bremerton Bar and Grill donated 20% of all proceeds! We packed the house, eating and drinking to support shelter pets.  Completed stamp cards were exchanged for Pup Crawl T-shirts.
Through the generosity of our Pup Crawl partners and participants, we raised over $5,400 to support our lifesaving work. That is AMAZING! We couldn't have done this without your love for beer and your love for animals.
We hope to see you Pup Crawlers at our upcoming Pints for Pets events. We host one each month at various breweries around Kitsap. Our next Pints for Pets is May 3, 2018 at Hood Canal Brewery in Poulsbo. (Leashed dogs welcome!) Check our events calendar or our Facebook page for more information! And if you want to become a Pup Crawler, hitting our Pints for Pets events in preparation for next year's crawl, join our Pup Crawlers Facebook Group!