Cruelty Survivor Ready for Adoption
April 10, 2017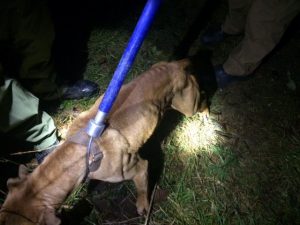 Harley's story began on January 24th, when Kitsap County Sheriff's Office checked on an abandoned, derelict trailer home in Port Orchard. Once on the scene, the deputies found deplorable conditions inside the dwelling, and a dog in distress. Animal Control Officers were called to assist in rescuing the Pit Bull-Boxer mix. The home was so filled with feces and garbage that gas masks had to be worn due to the high level of ammonia in the environment. The dog was severely underweight, his ribs clearly visible, and his eyes infected. An investigation by Kitsap Animal Control revealed that the owner had moved away months beforehand and stopped coming to check on the property and feed the dog when his car broke down. "It is always a shock to find cases of neglect like this in our own community. This poor dog had suffered through cruel conditions, but was still so happy and excited to meet the deputies and officers that came to his rescue," says Chase Connolly, Animal Control Field Manager.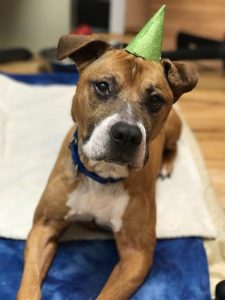 Harley was impounded at KHS and examined by the lead veterinarian. Dr. Jennifer Stonequist determined Harley was likely 8-10 years old, and suffering from emaciation and lack of veterinary care for some chronic conditions. Harley was started on a re-feeding diet to safely help him gain weight, received blood work, and started on needed medication. With appropriate medical care and lots of TLC from staff and volunteers, Harley has transformed in the past 11 weeks. When originally rescued, Harley was only 35 pounds- now he is up to a healthy 50 pounds! Harley will always have some lameness in one of his hind legs due to an old injury and arthritis, but it doesn't slow him down at all. His eyes, once sealed shut with green discharge, are now clear thanks to daily eye drops.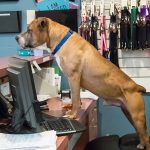 Since arriving at KHS, Harley has transformed. Not only is he looking better, he's feeling better too! Volunteers and staff report that he loves to play ball, chew on toys, and cuddle. He is such a staff favorite that he spends his days up at the Customer Service desk, "assisting" staff and greeting customers. He can often be found lounging on his big dog bed behind the desk- usually on his back with his feet in the air and snoring. Despite his limp, he also loves to go on short walks in the woods around the shelter.
Having survived such deplorable conditions, KHS is hoping to find Harley a loving home. Thanks to a generous donor, Harley's adoption fee has been sponsored. More information on Harley and what kind of home he is looking for can be found HERE.