Action Alert: Two animal welfare bills need your support!
February 21, 2017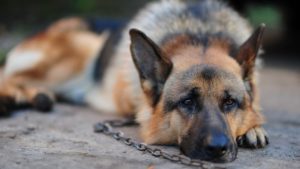 Last week we asked for your help to get the Washington State Senate Law & Justice Committee to support a bill that would help reduce cruelty and neglect in our state- and it worked! SB 5356 has moved from that committee to the Rules Committee, along with another important animal welfare bill, SB 5094. Now that these two bills are in the Rules Committee, legislators need to hear from you that these bills need to be scheduled for a full vote on the Senate floor, and supported in that vote!
What are these bills, and why are they needed?
SB 5356 is a bill that creates humane standards to address the tethering and chaining of dogs by focusing on dogs' quality of life and providing Animal Control Officers with more effective enforcement options to fight cruelty and neglect. You can read more about it on our blog or the full text on the bill's webpage.
SB 5094 is a bill that limits dog breed discrimination. This bill would require that the criteria for determining whether or not a dog is declared "dangerous" or "potentially dangerous" by jurisdictions should be focused on the dog's  behavior, not breed. The language in the bill rightly points out that evidence shows "a dog's breed  is not inherently indicative of whether or not the dog is dangerous" and that "breed-specific ordinances fail to address any of the factors that cause dogs to become aggressive and place an undue hardship on responsible dog owners who  provide proper socialization and training". The bill "intends to redirect the focus away from particular breeds and to instead encourage local jurisdictions to employ more effective and data- driven prevention models to control dangerous dogs and enhance public safety". You can read the full text on the bill's webpage.
How you can help:
In order for both of these important animal welfare bills to move from Rules Committee to the full Senate floor,  the legislators in the Rules Committee need to hear from you!
Your message can be simple: "Please vote YES on SB 5356 and SB 5094. Humane, animal-friendly legislation is important to me and my community and we expect your support on these bills!"  
You can also personalize your message about why anti-tethering and anti-breed discrimination for all pets in Washington State matters to you.
Want to EMAIL? Here are the email addresses of the Rules Committee members. You may cut and paste this list:
barbara.bailey@leg.wa.gov; randi.becker@leg.wa.gov; andy.billig@leg.wa.gov; john.braun@leg.wa.gov; maralyn.chase@leg.wa.gov; annette.cleveland@leg.wa.gov; doug.ericksen@leg.wa.gov; joe.fain@leg.wa.gov; bob.hasegawa@leg.wa.gov; jim.honeyford@leg.wa.gov; curtis.king@leg.wa.gov; marko.liias@leg.wa.gov; john.mccoy@leg.wa.gov; mark.miloscia@leg.wa.gov; sharon.nelson@leg.wa.gov; steve.oban@leg.wa.gov; kirk.pearson@leg.wa.gov; ann.rivers@leg.wa.gov; mark.schoesler@leg.wa.gov; timothy.sheldon@leg.wa.gov
Want to CALL? Here are the phone numbers of the Rules Committee members:
Habib, Cyrus (D) Chair    (360) 786-7700
Bailey, Barbara (R) (360) 786-7618
Becker, Randi (R) (360) 786-7602
Billig, Andy (D) (360) 786-7604
Braun, John (R) (360) 786-7638
Chase, Maralyn (D) (360) 786-7662
Cleveland, Annette (D)  (360) 786-7696
Ericksen, Doug (R) (360) 786-7682
Fain, Joe (R) (360) 786-7692
Hasegawa, Bob (D) (360) 786-7616
Honeyford, Jim (R) (360) 786-7684
King, Curtis (R) (360) 786-7626
Liias, Marko (D) (360) 786-7640
McCoy, John (D) (360) 786-7674
Miloscia, Mark (R) (360) 786-7658
Nelson, Sharon (D) (360) 786-7667
O'Ban, Steve (R) (360) 786-7654
Pearson, Kirk (R) (360) 786-7676
Rivers, Ann (R) (360) 786-7634
Schoesler, Mark (R) (360) 786-7620
Sheldon, Tim (D) (360) 786-7668
Kitsap Humane Society is committed to advocating for animals and pet lovers not just in Kitsap County, but across Washington, our region, and our country. Thank you for supporting humane legislation and helping us to create a better world for animals!