Action Alert: SB 5356 needs you!
February 13, 2017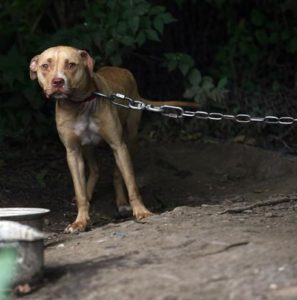 Urgent Action Needed to help reduce cruelty and neglect of dogs in WA state!
This Wednesday, February 15th, the Washington State Senate Law & Justice Committee will hold a hearing on a bill to create humane standards to address the tethering and chaining of dogs, SB 5356. The bill, which was developed with input from national and local animal welfare and control organization, focuses on dogs' quality of life and provides Animal Control Officers with more effective enforcement options to fight cruelty and neglect.
Why is legislation needed?
Tethered dogs are often chained with heavy chains which result in health issues such as skin conditions, infections, and even embedded collars. Chained dogs are also often at risk from extreme weather conditions and can lack access to food, water and basic care. Life on a chain also does not meet a dog's social, physical and intellectual needs. This bill would enable Animal Control Officers to educate owners on how to provide humane, adequate care to keep their dog happy and healthy. This bill would also enable Animal Control Officers to hold non-compliant owners accountable for cruelty and neglect.
The bill is also good for communities. Chained dogs are a public nuisance and are often the source of many barking complaints. Also, research by the CDC has found that chained dogs are more than twice as likely to bite than a non-chained dog, and that increases to over 5 times more likely to bite children under 12 years old. This bill would help reduce nuisance and barking complaints and protect public safety.
Kitsap Humane Society's Animal Control Field Manager, Chase Connolly, says of the bill, "Our constituents in Kitsap County want Animal Control to be able to intervene in cases of dog tethering and chaining. We frequently receive complaints about barking and inadequate care in regards to tethered dogs. Our community of animal lovers expects and deserves humane legislation that will make our state a safe place for dogs and people."
How you can help:
We need to show legislators that Washingtonians support and demand humane standards. Please go to the bill's webpage and choose: "Position: Support". You can also enter any comments of support on that page.
You can also read and share the Humane Society of the United States' fact sheet on SB 5356.