Salem goes to prison!
January 30, 2017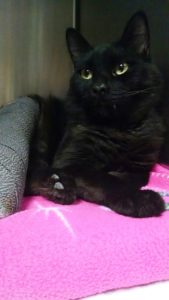 Salem is going to prison… and he loves it! Salem is one of the hundreds of cats and kittens who is going to prison for much needed foster care, thanks to Kitsap Humane Society's "Pawsitive Prison Program" in partnership with the Mission Creek Women's Correctional Center in Belfair. Salem arrived at KHS in December with a badly broken leg after being hit by a car. His fracture required a large cast,  which was very uncomfortable and hard to keep clean in the relatively small cat kennels available at the shelter. Salem was selected to go to Mission Creek and complete his healing and recovery in this special foster program! Now Salem gets to live loose in a large room with four human roommates who dote on him and give him around the clock attention. He comes back to KHS every few weeks for cast and bandage changes and a check up. His foster moms report that he is a wonderful cat that loves to play, explore, and snuggle. He can often be found hanging out on their beds while they read and relax. Because of all the TLC and one-on-one attention he is able to get in such a stress-free environment, Salem's leg is making a remarkable recovery.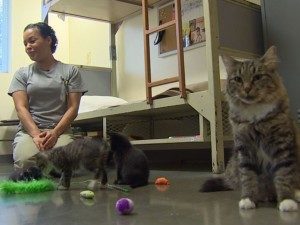 Salem and other injured cats tend to heal better and faster outside of the shelter kennel environment. Orphaned kittens and nursing mother cats with young kittens are also easily stressed and at high risk of disease in a shelter environment. For this reason, foster care is an important avenue for improving the quality of care KHS can provide for cats and kittens in need. The Mission Creek foster program is an especially good fit for both injured cats, orphaned kittens, and nursing mother cats and their babies, because the cats get so much attention around the clock. The living quarters are like a home environment for the cats in many ways, but since it is an institutional setting they are also very easy to clean and disinfect, which is important for foster animals. The Mission Creek foster parents are able to learn so much about each animal's personality and provide a great level of detail about each pet as an individual (like play style, favorite toys, and any handling sensitivities), which helps KHS adoption counselors find them the right home when they return to the shelter for adoption.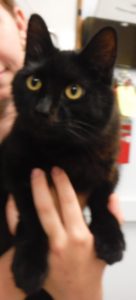 Salem will be fully healed and ready to be released from prison in the coming weeks. He will then return to KHS' adoption center to find a loving forever home! Returning with him will be his diary of care from his foster parents with lots of good information and anecdotes for his new adopter to enjoy. Once his room at Mission Creek is open, KHS will be able to send another cat in need for that spot. The Pawsitive Prison Program at Mission Creek enables KHS to improve the quality of care and save more cats and kittens than ever before. If you'd like to support this innovative foster program, please consider donating! KHS must provide all food, litter and other cat supplies like cleaning supplies, grooming supplies, toys, and bedding for the Pawsitive Prison Program. Our wish list  of needed items:
Cat scratcher toy and replacement scratching pads
Kitchen scale for weighing kittens
Donations can be dropped off to the donation bin at the front door of the KHS shelter (9167 Dickey Road, Silverdale) 8am-5:30pm seven days a week, or to the front desk of the shelter during business hours OR ordered online from our Amazon Wishlist and mailed to directly to the shelter.