Quincy's Journey
May 8, 2016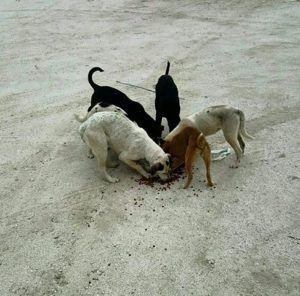 Animals come to Kitsap Humane Society in all kinds of ways- this is a story about Quincy's journey… On April 27th the KHS' Rescue Me program, that transfers in at-risk animals from other shelters and rescues , got a call for help from a rescuer in North Central Washington. An employee at a small, rural airfield had discovered that a family of dogs had been dumped at the site. Dirty, scared and starving, they needed a place to go ASAP, but the nearby town and surrounding county had no animal shelter. Our staff was sent a photo of the dogs, all crowded around a small pile of kibble provided by the airfield employee, and we knew we had to help. Our Rescue Me team packed one of our transport vehicles with crates and blankets and headed out on the morning of April 28th.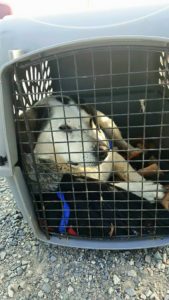 Seven dogs, all underweight and covered in ticks and cow feces and even skunk spray, awaited us. They all seemed to be mixes of Cattle Dog, Labrador and Shepherd. In addition to a few teenage puppies was one very pregnant adult (now named Cashmere), and one very sweet adult with beautiful cookies and creme coloring.- now named Quincy. Once loaded into their own crates, with soft bedding, we saw them finally start to relax, as if they finally knew they were safe. Quincy settled right into her crate and slept for the whole long ride back to Silverdale. Once they arrived at KHS, we started to unload each dog slowly and giving them a quick physical exam. As we coaxed Quincy out of her crate, we noticed that her ears were completely covered in ticks. Not your typical small ticks, but ticks so engorged with her blood they had ballooned to the size of a hard candy. Our team made the decision to get each dog into  their kennel in the adoption center right away so they could have access to clean water and a good meal, and then we would start the long process of getting everyone clean and tick free.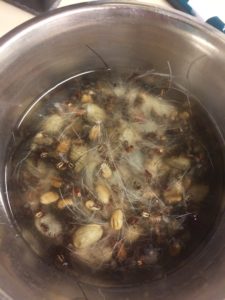 After getting fully vaccinated and dewormed, it was time for Quincy's spa treatment. Quincy was very brave getting into the doggie bathtub, and as the warm water started to flow over her body, her coat went from a dirty, stained brown to a glistening white covered in beautiful patches, spots and freckles of brown and black. The dirty water was black with dirt, and she leaned into the massage of the shampooing. Once all of cow feces and other dirt was washed off of her, the hard work of removing the ticks began. Multiple staff members, using tweezers and flashlights, started combing through her coat, checking under her armpits, in her ears and then triple checking again. Clusters of ticks were everywhere and it took close to an hour to get Quincy bathed and tick-free. We just had to capture a photo of the bowl of ticks we removed from Quincy and her fellow airfield dogs- it is truly unbelievable!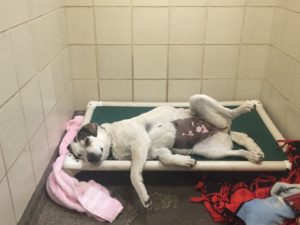 After her bath, Quincy got to enjoy a good night's sleep in her new kennel. Quincy and her fellow airfield dogs had likely been barely sleeping while living out at the airfield after being dumped. She and her friends would have had to be high alert for predators and threats all night long. Finally safe at KHS, she was able to feel secure and truly rest. When we left her that first night, she was curled in her blankets, fast asleep. The next morning, Quincy got to spend some time with our Vet Services department getting spayed and microchipped, and now that her coat was totally dry- received flea and tick preventative! She was very brave with the medical staff, even walking on the leash and giving little tail wags and gentle kisses. Her spay surgery went very smoothly and she seemed to like all of the attention pre- and post-surgery. As we got ready to leave the shelter at the end of the day, staff walked through to check on every dog, and found Quincy completely comfortable and content,  enjoying another restful night's sleep.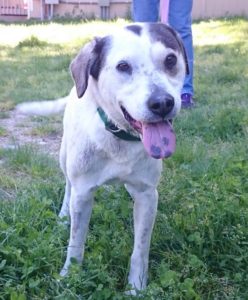 As each day has passed since her arrival, Quincy has adjusted more and more to life at KHS and is now available for adoption and looking for a home. She is enjoying walks with our dog walking volunteers on the trails around the shelter property, and is spending time with our Behavior & Training department. We don't know what Quincy's life was like before she ended up at the airfield with her friends. But we suspect that she had likely been someone's farm dog, mostly living outside, and in the company of other dogs. Quincy seems unaccustomed to being contained inside, and can grow restless and anxious. She seems most content when she is outside lounging in the sun, walking the trails, or hanging out with a canine friend. Staff and volunteers are giving Quincy socialization time in various indoor spaces to help her learn to be comfortable in new surroundings. She  is a  happy dog that greets you with a smile, and despite her size, wants to be right on your lap. She loves leaning in for pets, and being by your side. Quincy will need a loving, dedicated home that can continue her work on house skills and socialization. She would likely do best in a home with a confident, social canine sibling, who can show her the ropes and keep her company as she adjusts to a new home, new schedule and new expectations. For all she's been through, we know that Quincy's future is bright. She will never again be dumped and left for dead, she will never again be tick infested, she will never again be unloved. We know that the right family is out there for Quincy, and that with a little love and training she will blossom into an amazing dog and excellent companion.
If you're inspired by Quincy's story, please consider making a donation to support the work of our Rescue Me program so we can continue to help at-risk pets like Quincy. 
**Editor's Note 5/9/16-  Quincy is currently not on the website as available for adoption because she is on treatment for a bad cold- anyone interested in adopting Quincy can still submit an application to be considered when she is medically cleared- thank you!**