Vote NOW through Sept 30th to win KHS $25,000!
September 10, 2015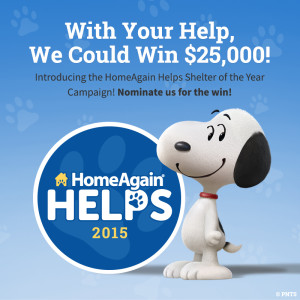 Last month we asked our supporters to nominate us for  a chance to win $25,000… and thanks to tons of nominations from our supporters, Kitsap Humane Society is one of the eight lucky finalists for the nationwide HomeAgain Helps Shelter of the Year award! Being a finalist is cool, but what we really want is to WIN! The grand prize winner will get $25,000 plus a new computer, ipad, microchip scanner and veterinary supplies. The runner ups get other great prizes but we REALLY want to win- don't you!? Winnings would be put towards our ever growing life saving and shelter medicine/veterinary programs so we can save more lives!
Now we need YOU to VOTE for us online, EVERY DAY through September 30th. That may sounds like a lot, but it's literally just 1 minute of your time for the next 20 days. You can spend a total of 20 minutes this month helping us win $25,000, right? Our animals will so appreciate your support!
Voting is easy! TO VOTE:
Go to: www.homeagainhelps.com
Click on the "vote" button under Kitsap Humane Society section on the far right. It will ask you if to vote through either your Facebook, Twitter or Google account- choose one and your vote is logged!
IMPORTANT REMINDERS:
– You can vote EVERY DAY through September, not just once!
– We need YOU to help us spread the word and get more votes! Please share our Facebook posts about the contest and this website story with your friends, family and everyone else you know!
Thank you SO much in advance for all your support!