KHS Kitties Go To Prison!
September 24, 2015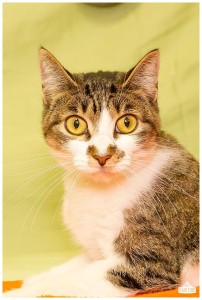 Kitsap Humane Society is excited to announce a new partnership with the Mission Creek Women's Correctional Center starting in October! The Mission Creek facility is located in Belfair, just across the county line in Mason County and a short drive to the KHS shelter. The Pawsitive Prison Program will train approved offenders at Mission Creek to foster cats and kittens from KHS until they are ready to return to the shelter for adoption. Program participants are screened by their Unit Supervisor and then go through an intense training with KHS staff that covers everything from kitten development, to cat behavior, and from handling and socialization, to proper cleaning and disinfection. Feline participants are chosen by KHS staff, and will include orphaned litters of kittens, mother cats with nursing kittens, and adult cats in need of socialization or recovery from injury.
Each cat or set of kittens will be assigned to a dorm room with up to four offender foster parents caring for them. KHS is hoping to have as many as six dorm rooms hosting foster pets. The kitties will get tons of attention and TLC every day from their foster parents, which will prepare them for life in a future forever home. The foster parents will also keep detailed health, behavior and personality logs for their foster pets, which will be shared with shelter staff and the animal's future adopter. KHS expects that a number of the program's kitties will be adopted by prison staff who fall in love with their new charges. Each room with have a playpen kennel for the cat or kittens to stay in when left alone, and the participants will be outfitted with toys and supplies to keep their foster pets happy and healthy.
KHS will need to provide all food, litter and other cat supplies like cleaning supplies, grooming supplies, toys, and bedding for the Pawsitive Prison Program, so is asking for help from our supporters and the community to collect needed items.  Our Pawsitive Prison Program Wish List is:
Cat scratcher toy and replacement scratching pads
Kitchen scale for weighing kittens
Donations can be dropped off to the donation bin at the front door of the KHS shelter (9167 Dickey Road, Silverdale) 8am-5:30pm seven days a week, or to the front desk of the shelter during business hours OR ordered online from our Amazon Wishlist and mailed to directly to the shelter.