Construction Update – 7/7
July 13, 2023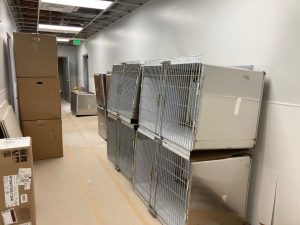 If it's true that "opportunity knocks" then we have a lot of opportunities to look forward to – because we now have doors! Throughout the Russ & Linda Young Veterinary Lifesaving Center, doors have been installed, as have the bulk of the cabinetry and countertops. Most exciting, however, is the delivery shiny new kennels and other shelter-specific equipment, some of which will be installed today and over the next two weeks. In another inspiring step, the dedication bricks for the Memorial Garden have been ordered and will be installed for the September 18 donor event. And if you still haven't taken the tour and want to, just drop Jamie a note.
At the Barn end of the campus, gravel has been poured and fine graded and we're just a week away from the start of landscaping. Short version: things are happening!
If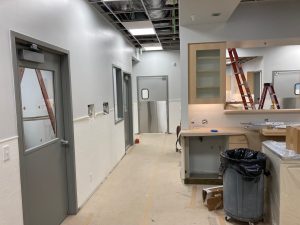 you're looking for some non-construction-related excitement, join us at West Hills Kia (part of Haselwood Auto Group in Bremerton) on Saturday, July 15 from noon to 3 p.m. for a special adoption event. Our favorite auto dealers are holding a month-long Drive for a Cause event, during which they will donate $20 for every car sold and $5 for every service repair order – all to KHS!