Pet of the Week — Parker
February 20, 2023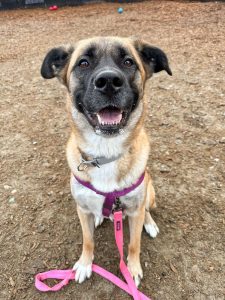 Meet Parker! This fluffy and adorable 1-year-old shepherd mix loves, loves, loves treats! Parker is also a huge fan of affection and adores booty scratches, ear rubs, and isn't afraid to cuddle into you to ask for more. Parker is a happy boy that will flash a grin every once in a while. He loves to play with stuffed toys, and he'll fetch, too! Parker is looking for someone that has experience with training, enrichment activities, and giving plenty of affection! Does Parker seem like the enthusiastic and loving dog for you? Come give him a chance today!
Do you want to bring Parker home, but need some time to make a decision about adopting? Give this sweetheart a trial run through our Foster to Adopt program! Take some time to simply get to know Parker in your own home and then see if you'd like him to stay. If you'd like to get to know our friend Parker, come to the shelter and take him home today!
You can meet Parker and our other adoptable animals at Kitsap Humane Society, open for walk-up appointments on a first-come, first-served basis.