Meet February Puppuccino Pal Sponsor, Venn Logic LLC.
January 31, 2023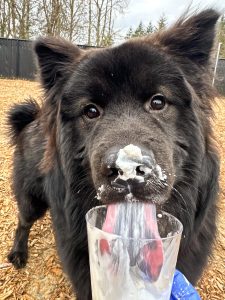 We are pleased to introduce our February Puppuccino Pal Sponsor, Venn Logic! Venn Logic is an individual and team coaching LLC whose mission is to help people become stronger leaders of themselves and others. While Venn Logic is based in the Seattle area, their services are available anywhere and with over 20 years of experience in leadership coaching and talent development across industries and sectors, this company provides insight and resources to help leaders and teams flourish, individually and together. 
"My clients and I do this work together, harnessing the incredible power of vulnerability, courage, research, data, intuition, and a healthy dose of humor," said Heather Wellman, Owner of Venn Logic.
When asked why she chose to support the pets in need at Kitsap Humane Society through our Puppuccino Pal Sponsorship, Heather said, "I started my career in non-profit and social justice, two things that have remained close to my heart and have made philanthropy a priority for me personally and professionally. A long-time supporter of animal rights and welfare, along with being a Kitsap resident, made this decision easy! I look forward to adding KHS to the list of other outstanding local organizations I have the honor of supporting."
Learn more about Venn Logic and its services at https://www.vennlogicllc.com/about.