Thank You Volunteers & Fosters
November 3, 2022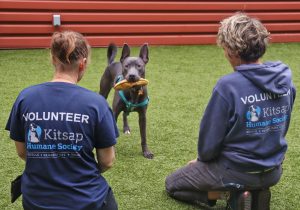 2022 is coming to an end and boy has it been a busy year, so this month we celebrated the hard work of all of our amazing volunteers and fosters! Each volunteer brings incredible skills and talents to our team, making what we do possible. Within our volunteer crew, we have several volunteers that live and breathe the mission, dedicating hundreds of hours over the year helping with dog walking, doing laundry, socializing our cats, and assisting in our veterinary areas, just to name a few! The truth is all of our volunteers deserve the spotlight, as their effort, passion, and dedication are evident in all areas of our shelter! We are proud to introduce our 2022 award-winning volunteers!
Eager Beagles
Sally Miller, Wendy Baldur-Bradshaw, and the Thomas Family (Chris, Regina, and Vanya) have all contributed over 100 hours within 6 months or less of volunteering with KHS!
Pack Leaders
All of our Lead dog walkers are incredible, spending hours ensuring our dogs are getting quality time out of their kennel. Several of our Lead dog walkers dedicated over 300 hours in 2022 including Tina Chenevert, Molly Clark, Elizabeth Gale, Sandi Klein, Lisa Ottenbacher, and Gail Wilcox!
Caravan Crew
We have several dedicated Transfer volunteers that will help pick up animals at all hours of the day and night, and bring them back to KHS to start their new journey with us.These volunteers show true grit and determination by jumping in to help drive animals to and fro, even at 2am! A huge shout out to Pat Garrett, Ann Garrett, and Vickie Josal who have completed so many of our transfers!
Emerging Leader
Over the last year, we have been looking for ways to better support the development of volunteers and their skills, as they move forward in more leadership-focused volunteer roles. Thank you to our Lead Volunteers, Jennifer Heimerman, Lead Cattery volunteer, and Jennifer Parker, Claudia Sharpe, and Dan Bunch shifting into Lead Dog Walker roles!
Purrfect Pals
Feline enrichment is a vital part of keeping our cat population happy and the hours of socializing, reducing stress, and helping cats come out of their shell, sets them up for success in their new forever homes! The following volunteers have contributed over 200 hours in the Cattery: Eva Crim, Jeff Berger, George and Kay Luzik, Margaret Poshusta, and Monica Turnbull!
Jack (Russell-Terrier) of All Trades!
Alexa Meeks is one of the few volunteers that is trained to work with all KHS animals, assists with animal care duties in the cattery, works with higher-level dogs, and snuggles our rabbits and other small animals. And she does this all while being a high school student in running start! She truly is a jack of all trades here at KHS.
Vet Care All Stars
Volunteers help contribute so much to the success and the capacity of care our Vet Team can give by assisting in programs such as Low-Cost Spay/Neuter, lifesaving surgeries, and more! A huge shout out to Martha Mealy and Susan Oatis for their hours of support in Vet Services, along with Cheryl Boddy who has contributed over 500 hours so far in 2022!
It was an incredible honor being able to celebrate all volunteers, and recognize those that have truly gone above and beyond! Our programs would not be the same without you, and for that we are forever grateful!