Meet our September Puppuccino Pal, Finn Hill Starbucks
September 2, 2022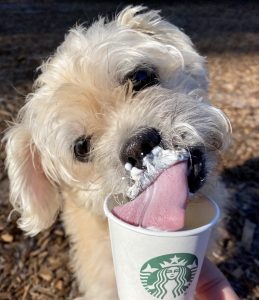 We are happy to introduce you to our September Puppuccino Pal, Finn Hill Starbucks! Located on the corner of Finn Hill & Hwy 3 in Poulsbo, this Starbucks location aims to be more than just a quick stop on your way, but to also be a community gathering place.
"Finn Hill Starbucks strives to always live up to Starbucks' mission: "To inspire and nurture the human spirit—one person, one cup and one neighborhood at a time," said Finn Hill Starbucks Store Manager, Brandi Query. "Our goal is to help make our community a better place, whether that's through making human connection or giving support to causes that we are passionate about (like KHS!)."
"Finn Hill Starbucks is home to some of the kindest, most caring, and passionate people that I know (both baristas and customers). We strive to create an experience where customers feel like they can consistently receive a quality beverage (or food item) while also feeling at home in our store," Query explained.
When asked why Finn Hill Starbucks chooses to partner with KHS, Query said, "Many of the baristas at Finn Hill Starbucks are extremely passionate about helping shelter animals. Many of us have shelter pets of our own and know how much of an impact helping to save one furry life can make. The staff at KHS does SO much for the animals in our community! We want to support in any way that we can (even if it only makes the smallest difference)!"
Not only are we partnering with Finn Hill Starbucks to bring puppuccinos to shelter pets all month long, but we are also kicking off our first ever Pets on the Patio event at Finn Hill Starbucks as well! Join us on Sept. 13 from 4-6 pm for puppuccinos and a fun raffle at Finn Hill Starbucks!
Check out Finn Hill Starbucks at 21215 Olhava Way NW, Poulsbo, WA 98370.