Meet Puppuccino Pal Sponsor, Urban City Brew Co.
March 1, 2022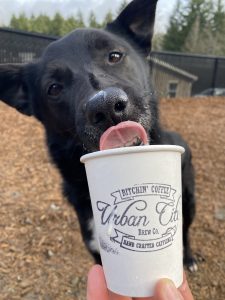 It is our pleasure to introduce you to our March Puppuccino Pal Sponsor, Urban City Brew Co. Located off Silverdale Way, this family-owned coffee shop focuses on strong ties and good coffee! Urban City Brew Co. serves Ootopia Coffee Roasters and offers military discounts seven days a week!
"My husband and I purchased Urban City Brew Co. in 2017 after moving back to Kitsap from Southern California when we were pregnant with our son," said Urban City Brew Co. owner Kaitlin Hubbell. "Much like our family… Urban City has grown SO MUCH since then. We moved the original building from its old location on Ridgetop to its forever home on Silverdale Way. Because of its new location, our customer base is primarily military. To show how grateful we are to our serving community members, we choose to offer a military discount of 10% off every day of the week. We are one of the only stands to do so and it's really the smallest gesture we can make to show our appreciation."
"At Urban City, our biggest priority is to love our people well. Our team of baristas is made up of a team that has been with us from the start! While we always support where they are going in life, we are so thankful to have had the majority of our team for the long haul. Over 90% of our business is daily and weekly returning customers.
"Because of those steadfast relationships we have had steady growth even through the pandemic and we are so thankful to be able to give a dose of that success back to the community through organizations like KHS! We are so thankful for the work you do and would like to support an organization close to the hearts of our team. All of our baristas are pet owners and as a "thank you" to them, we've chosen to donate to KHS! Also… bad days are literally not possible when a cold, wet nose greets you for a puppuccino!"
Check out Urban City Brew Co. located at 15228 Silverdale Way NW, Poulsbo, WA 98370.