Announcing Changes to Our Adoptions Process
May 18, 2021
Dear friends,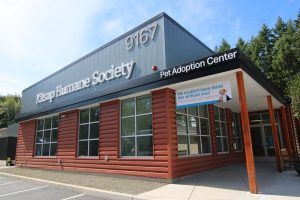 Kitsap Humane Society is pleased to announce that beginning Wednesday, June 2, the shelter will transition from an appointment-based adoption process to a walk-up and queue-based first-come, first-served adoption system. We will no longer be operating on an appointment-only system!
In March 2020, KHS converted to an appointment-based adoption process to ensure the well-being of shelter staff, volunteers, and community members due to the COVID-19 pandemic. For the duration of 2020 and into 2021, KHS followed local and state pandemic guidance and remained open safely, serving the community as an essential service.
As more and more individuals are vaccinated, the queue-based, first-come, first-served adoptions process will allow increased opportunities for prospective adopters to welcome a new furry family member into their homes.
Beginning June 2, here's how our new adoption process is expected to work:
A queue will open daily at 11 am.
Prospective adopters will join the virtual queue from their smartphone upon arrival at KHS and by scanning a QR code in front of the shelter, in addition to submitting an adoption application while waiting.
KHS team members will be on-site to assist customers who don't have access to a smartphone.
Prospective adopters will be able to review adoptable animals in sanitizable binders and be asked to wait in their vehicles.
Adopter wait times will be dependent on animal type and the number of individuals waiting in the queue. If wait times are long, prospective adopters will be able to leave KHS and return to the shelter once their wait time drops to a specified time.
Individuals arriving at the shelter who are utilizing KHS's Pet Food Pantry, reclaiming a lost pet, or licensing their pet will not need to wait in the queue.
To ensure the continued safety and well-being of staff members, volunteers, and the community, masks and social distancing are required at KHS.
Additionally, entry inside of the shelter will remain limited and walk-ins will not be permitted for general pet viewing. This is not just for the wellness and safety of our team members; interestingly enough, over this last year, we've noticed a marked decrease in our shelter pets' stress levels and overstimulation, specifically in our dog kennels with the reduction of individuals walking through the kennels!
It's been a rough year, but there is a light at the end of the tunnel! Thank you for all you've done to ensure KHS has and will be there for people and pets in need throughout our community.
Lee Harper
Executive Director