Loving Rescue Takes in Senior Mare
March 15, 2021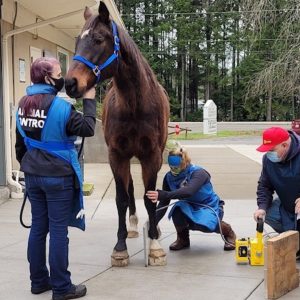 Here at KHS, we strive to create a more humane community for all, no matter how big or small. At the beginning of this year, Katie, a 24-year-old mare came to us in need of extensive care. She was very underweight, her hooves were overgrown, and one of her hips appeared arthritic, plus she needed a dental float and filing.
Upon arrival, Katie's personality won over many of our team members, and we knew she had plenty of life left to live! With the help of local partners, including Joseph's Farrier Service, who trimmed her hooves for free, Clover Valley Veterinary Services, and an equine chiropractor, as well as daily enrichment from our staff and volunteers, Katie's feeling like a brand new horse! And best of all, Katie found placement with a horse rescue that will ensure she's well cared for, for the rest of her days! Plus, she's already made a friend (pictured below)!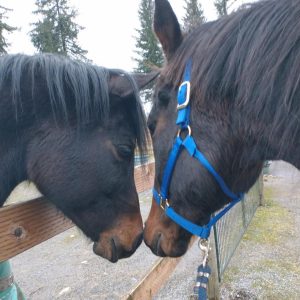 While we don't often see horses, KHS is committed to being there when pets and people need us. Thank you to our community and our partners for your lifesaving support! Happy Trails, Katie!