What It Takes to Be a Working Dog Prospect: Calum's Story
January 19, 2021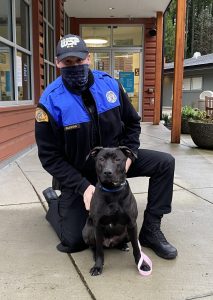 When one energetic pup was brought to Kitsap Humane Society after being found stray, we knew we had to ensure we found the perfect fit for him! We thought he would be heading to a house with other pets who would keep him company and help him burn energy. But he had other plans. Calum came to KHS in Nov. 2020 and found himself moving to his new home with Washington State Patrol (WSP) as a working dog prospect early in Jan. 2021.
As part of his training to become an explosive-sniffing dog for WSP, Calum will begin a 400-hour long course, after which he will graduate and become a hard-working boy.
But what does it take to be a working dog prospect?
For dogs like Calum, who get placed in working dog programs, we look for a few different qualities. According to our Behavior Coordinator, Sam Zuanich, the dogs are usually:
1 to 2 years of age
Good with people and other dogs
High energy/love to go-go-go
And most importantly, they are absolutely obsessed with tennis balls and will "hunt" for them even if the ball is out of sight
We might identify a prospective dog in a couple of different ways. Typically, working dog prospects may be a lot to handle and may have trouble in the shelter environment, or they may struggle in a traditional pet home because they have too much energy. Fortunately, this high energy makes them perfect for a job doing detection work! After these qualities are identified, we gather information from our dog walking volunteers to see if the dog is interested in fetch or tennis balls. Things like "Oh, he is obsessed with fetch!" or "I take him for a game of fetch before I walk him!" are good notes that signal a dog might be good at detection work.
Ball Drive Testing
After we've determined interest in tennis balls, we go through a four-part assessment we call "ball drive testing." This assessment was developed by Working Dogs for Conservation. The assessment is scored based on the following items.
The first item is just a game of fetch to gauge sustaining interest in the ball.
The second item is throwing the ball, restraining the dog until the ball is not moving, and then releasing the dog to see if the dog is still interested in a tennis ball.
The third item is throwing the tennis ball in an obstacle to see if the dog will encounter the obstacle to obtain the tennis ball.
The fourth and final portion is hiding the tennis ball in an obstacle while the dog is in a different room and then releasing him to see if he will "hunt" for the tennis ball.
The assessment is scored out of 36 points. Calum, for example, got a score of 30, meaning he is a solid working dog prospect.
After determining that a dog has working dog prospect qualities and has a high ball drive score, Zuanich reaches out to working-dog organizations we have worked with before to see if they are interested.
In Calum's case, WSP had a new K-9 class coming up, and they were already interested in him. Working dog organizations, like WSP, will assess in two parts before accepting a dog into the program. They'll come down to the shelter and perform an on-site assessment of the dog's working abilities and then will take the dog off-site in a new environment to see how the dog will work in a new environment since working dogs travel a lot for their jobs! Calum performed well on both assessments and was accepted into WSP's program that will be starting in a few months!
"I am so excited that Calum will be working in a program that uses his awesome natural abilities and will be getting the training that he loves!" said Zuanich.