Construction Underway for New Dog Training Center
January 7, 2020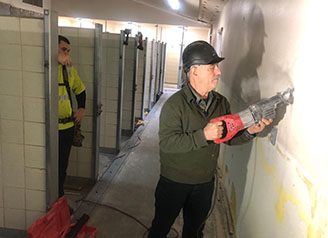 As you know, we opened our new, 9,300-square-foot Pet Adoption Center just three months ago, and we're still reveling in the joy of seeing shelter animals – and our customers — relaxed and happy in the new digs!
Now we're on to Phase 2-A: Construction of a new Behavior Training Center for shelter dogs who need extra individualized care and support. Work is already underway in the old shelter building, where the main dog kennels used to be. Due to construction, there will temporarily be fewer dogs on the adoption floor in the first half of January. KHS Executive Director, above, makes an inaugural cut in the wall for a new doorway.
Behavior training is an integral part of the services we provide for dogs at KHS. Many canine friends come through our doors distressed and scared. Our staff and volunteers work hard to provide playtime, training and enrichment activities – such as games and nose work – to help reduce stress and to promote happy, healthy interactions with other people and animals that will ultimately lead to adoption.
The new behavior center will be named in memory of Heidi Harnett Wakefield, a beloved lead dog volunteer who passed away in 2017. Heidi was a passionate advocate for expanding training opportunities for dogs.
Construction of the new behavior center will run from January to March and is the centerpiece of a roughly 2,500-square-foot renovation within the old shelter building. The renovation will also include:
A new dishwashing area to provide more efficient daily washing and sterilization of all cat and dog feeding bowls.
Improved access between the old shelter building and new Pet Adoption Center.
More spacious and quieter housing for stray dogs when they first arrive at the shelter.
Our new Pet Adoption Center was the first phase of a multi-year project. We are also amid planning for Phase 2-B – a new Lifesaving Veterinary Center — with construction targeted for 2021.
If you're interested in investing in our campaign (naming opportunities are available), or would like a tour of our new Pet Adoption Center or the Phase 2-A construction while it's underway, please contact Donor Relations Director Tom Weed at tweed@kitsap-humane.org or Development Director Paula Rimmer at primmer@kitsap-humane.org.