Animal Krackers Raises $500,000 for Animals!
October 1, 2019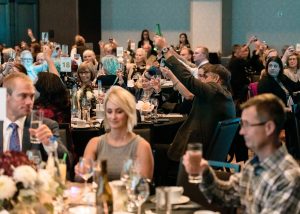 More than 440 animal lovers in all their finery raised a whopping $500,000 for shelter pets at Kitsap Humane Society's 26th annual Animal Krackers gala Sept. 28. Funds from the gala will provide lifesaving care and support for the more 6,500 animals who come through the doors of Kitsap Humane Society every year.
The evening kicked off with a silent auction and cuddles with adorable adoptables in the kitten and puppy cuddle booth. One highlight of the evening included a moving tribute to the late Dr. Jim Moore, a beloved veterinarian, former KHS board member and volunteer. KHS Executive Director Eric Stevens led the guests in a toast in his memory, noting Dr. Moore was "instrumental in elevating the vision of what Kitsap Humane Society could become."  KHS today is a national leader in animal welfare, with a lifesaving rate of 96 percent or better for the last four years in a row, a statistic was met with rousing applause.
The live auction featured an array of extraordinary items and experiences for animal lovers, foodies and
travelers, ranging from having your pet featured on the cover of Kitsap Humane Society's annual calendar,
to a paella feast for 36 guests, and vacation packages to Port Townsend, Mexico and Lake Geneva in
Switzerland.
A dessert dash for an array of tantalizing treats – including a 20-pound cake decorated like the new Pet
Adoption Center opening in October – had people kicking off their shoes to race for the confection of their
dreams.
The evening closed with a heartwarming video about a shelter pet, Maya's Story, that brought many in the
room to tears. The crowd responded by giving generously to the Fund-A-Need, which rounded out the
evening.
Animal Krackers was presented by Peninsula Subaru and held in the ballroom of the Suquamish
Clearwater Casino Resort. Special guests and elected officials at the event included State Rep. Sherry
Appleton, Kitsap Commissioner Robert Gelder, Bainbridge Island Mayor Kol Medina, former Bremerton
Mayors Patty Lent and Cary Bozeman, Prosecuting Attorney Chad Enright and Kitsap Judges Michelle
Adams, Jeffrey Bassett, Melissa Hemstreet, and Kevin Hull.
View photo's from Animal Krackers HERE!