Volunteer Sets Adoption Record: 3,000 Cats!
September 11, 2019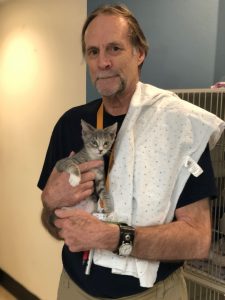 When volunteer George Luzik recently matched a tiny gray tabby kitten named Molly with an adoring customer, it was his 3,000th cat adoption at Kitsap Humane Society – an all-time record!
Luzik has volunteered at Kitsap Humane Society for six years, and his milestone adoption occurred Aug. 29, during the height of kitten season. This is nearly 500 more adoptions than any other volunteer or staff member has completed in the past 10 years!
"George is one of our lead Cattery volunteers, helping mentor new volunteers and comforting our shy, unsocialized cats. He is completely invaluable, as he's highly dedicated, very reliable, and always has a great attitude," says KHS Director of Animal Welfare & Animal Control, Sarah Moody-Cook.
Luzik volunteers at the shelter four days a week with his wife Kay, assisting with cat adoptions. He started volunteering at KHS after retiring from the civil service. Initially, he thought being a volunteer meant he'd only be cleaning kennels, but after learning he could interact and socialize with cats in the Cattery, he decided to join the KHS family.
Some may think George simply has the special touch, but he says the trick to helping so many shelter cats find their forever homes is simple. The adopters and the cat must be a match.
"I like to make sure people don't go home with any expectations that can't be met. They must be a good fit for the pet, and the pet must be a good fit for them."
George may be too humble to admit he has special adoption powers, but there's no doubt that he's a hero to thousands of kitties who're now living happy, loving lives.