Happy Tails – Zelda & Sushi
September 5, 2019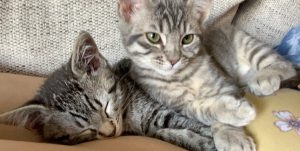 We're excited to share an update about two adorable kittens, Zelda and Sushi, who were adopted earlier last month by Ashley Heaton.
Here's how Ashley says Zelda and Sushi are doing:
"Sweetie pie is now named Zelda, and Briar is named Sushi and they are both doing so good!
They are a complete joy and just the cutest thing. Zelda is a bit more reserved and shy, but when she wants attention, she will be sure to let you know. She's growing at a good rate and getting bigger! She loves toys and her favorites are the squishy balls!
Sushi is a little baby; she's growing, but she's just tiny overall. She demands attention 24/7 and will scream at you if you're not holding her. She's also got this weird obsession with nursing on things. She will knead on shirts, people, etc. and then start sucking on them- she even does it with her own paws! And started doing it in her sleep too.
Sushi has a big personality and loves everyone she meets and isn't shy at all. Zelda's the skeptic one and tries to protect sushi at all costs. They adore each other and it's amazing.
We started an Instagram to share cute photos of them as well! So, if you want to see lots of cute pictures check out @radcatvibes on Instagram! "