What a Year for Animals!
January 21, 2019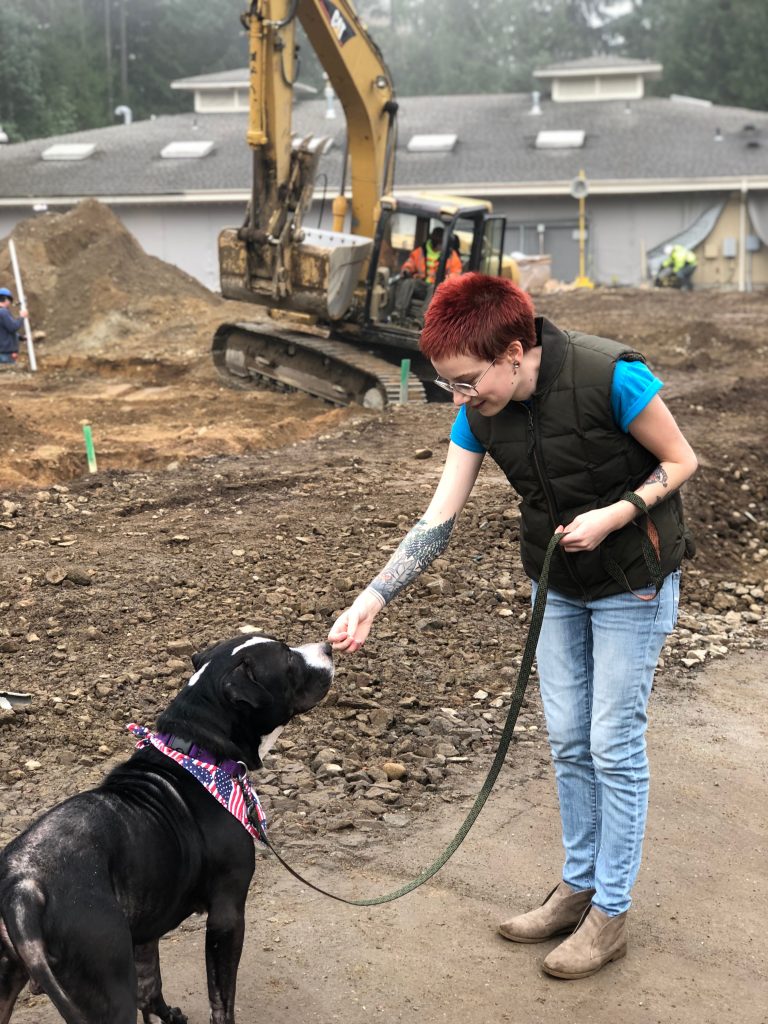 The numbers for 2018 are in, and it was another amazing year for the animals at Kitsap Humane Society!
For the first time in its 110-year history, the annual lifesaving rate at KHS rose to 97 percent – among the highest in the nation for an open-admission, public shelter that admits nearly 7,000 pets a year. It's also a testament to the individualized care each pet receives, ranging from the removal of tumors and mending of broken bones, to treating respiratory infections, behavioral issues and providing dental care.
"It's been an incredible year of service to the people and pets of our region," said Eric Stevens, the agency's executive director. "So many of the pets who arrived at KHS needed special care, and we were there for them. Even more amazing is that this lifesaving work occurred while we are constructing a new Pet Adoption Center on our campus, set to open next summer."
To date, major donors have contributed $5.6 million toward the $7.5 million capital expansion and renovation project. "We are so grateful for our community's generous and enthusiastic support of this project," Stevens said. "We'll be working hard to raise the nearly $2 million still needed to renovate what will become our new Pet Rescue and Rehab Center, housing expanded medical, behavioral, foster and intake programs."
Other highlights from 2018 include:
Rescued: 6,708 pets were sheltered, including 36 pets from a criminal hoarding case, and 2,298 pets transferred in via our Rescue Me program from shelters and communities in need, including those scorched by fire.
Rehabilitated: 1,846 pets received specialized surgical, medical and behavioral care. In addition, the KHS veterinary team spayed/neutered 5,753 animals, including 2,366 pets belonging to low-income families.
Rehomed: 6,487 pets were adopted, reclaimed by their owners or transferred to other rescues.
It was also a year of innovation for Kitsap Humane Society. With the new shelter construction underway, staff implemented a volunteer program to provide overnight and offsite field excursions for shelter dogs, to offset the stress of being at the shelter.
Shelter staff also created a new Pet Protection Program to provide temporary housing for cats whose families are in crisis due to domestic violence, job loss or homelessness. The program cares for cats up to 90 days at no cost and is highly confidential.
Kitsap Humane Society relies heavily on more than 570 volunteers, who helped with everything from dog walking and kitty brushing, to assisting with surgery, adoptions, and washing dishes and laundry. Volunteers also serve as foster parents, which allows vulnerable pets like kittens and puppies, pets stressed by the kennel environment, and those recovering from surgery to receive care in a home setting. Last year 1,225 pets spent time in foster care.
In addition to the hundreds of volunteers, nearly 3,000 households donated to KHS last year. "We are so grateful to our Kitsap community for their love of animals and support for animals in need," Stevens said. "We couldn't do this work without them."
Kitsap Humane Society is a private, nonprofit, charitable organization that has been caring for animals in need since 1908. KHS' vision is that every adoptable companion animal has a home.